Making Onigiri, the Cute Way
Japanese food is my all time favorite and its also one of my favorite past time to make sushi and
onigiri
; or also known as rice balls. Hehe. It has been ages since I last made them and usually I do not cook alone. This time, I cooked it all by myself. Hahahaha and it was during my actual birthday when I did this. I feel... accomplished, nice... but a little weird. Haha.

Here are some easy steps to make
onigiris
:) But before that, make sure you have the japanese-style rice, japanese vinegar, water, food fillings and seaweed (optional) and most importantly, a pot or a rice cooker. Haha.


#01 Rinse the rice

Must rinse okie! At least once or twice or not you will see insects floating around in the water later. You would not want to eat it. Haha. Tips! Do not throw the water away, use it to water your plants. You can also use it for facial mask if you want.


#02 Cook the rice

Please make sure that you put the correct amount of water. If you put too much, the rice will turn out watery and over moisture. If there is not enough water, the rice will turn into rocks. How to make sure its the right amount of water to put in? As for me, I'll follow my mood. Haha. I'll usually make sure that the water level is double of the rice's level. Do some simple math. If the rice is 200ml, then put in 400ml of water. That is how I cook lar, which is always correct. If you ask me what do I cook best, I would say rice. Seriously ;p If you prefer stickier rice, add more water la.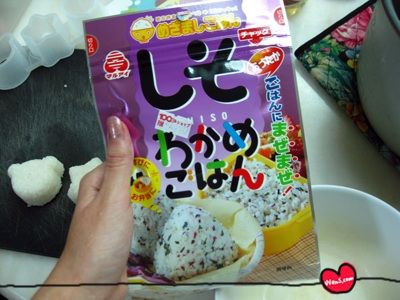 #03 Preparing food fillings

While cooking the rice, you may want to prepare your food fillings. This is what I used (picture above) for my
onigiri
s. I'm not sure what is that called but you can buy that in 100 yen shops or Isetan supermarkets (prices vary a lot though!). Other food fillings are like
ebiko
, egg, cucumber, crab stick and bla bla bla. Depending on your own preferences.


#04 Cool rice yo :)

After you prepared the fillings, I guess its about time when the rice are done. Lift the pot with gloves, please dont miss this out, or not you will burn your fingers. Then, pour in vinegar. Do not put in too much, maybe two spoons of it. Then, Stir it well. Hahahahaha and I do cheat a bit in this step, I usually test the taste of the rice if its okay. If its not, I'll add more vinegar until I'm happy with the taste ;p The more you add, the sweeter your rice will be. You must add the vinegar when the rice is still HOT. Its easier for you to stir well them anyway. Do that until you are satisfied with the taste then leave it to cool down. I do not encourage you to cool it down in the fridge cause it will dried up the rice lar.


#05 Moulding it!

Once the rice is cooled down. It is ready to be molded :) Please wash your hands again. If you want to make traditional

onigiri

without moulds, these are what you need to do. Make sure you wet your hands a little, place a scoop of rice on your hand (with or without gloves). Then, use two hands to play with the rice. Hahaha not a very nice term though. Mould it until it looks like a fat and thick rounded edged triangle rice ball. Hehe.

If you have moulds, wow! The process of making these

onigiri

s will be so much faster and easier. Just stuff the rice into the moulds only ;p See pictures below.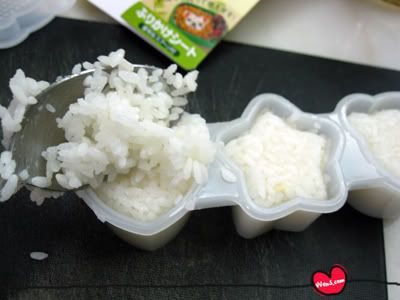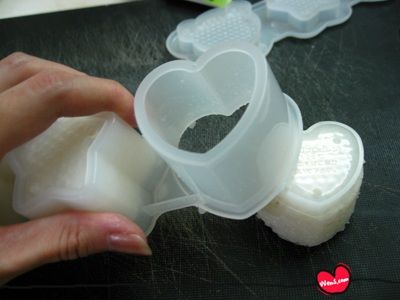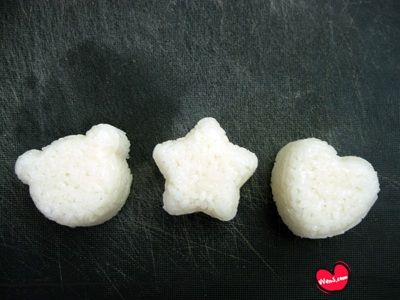 Taadah! And there you go. Cute and plain
onigiri
s :)


#06 Adding flavors

Remember the food fillings? If you want to add flavors to your
onigiri
, this is what you should do. Pour the flavoring into another bowl of rice and mix them well. I do this later because I want to have more flavors :) If you want to have only one flavor and lesser steps, do this before you mold the rice.

And actually, that's about it! Very easy right? But to make the
onigiri
s cuter, follow this extra step.


#07 Why you so cute one?

Get a sauce pen, or triangle plastic bags specially made for icing drawing. Fill in with sauces like mayonnaise (I dont like!) or
wasabi
! :) Next... You start doodling the your rice balls!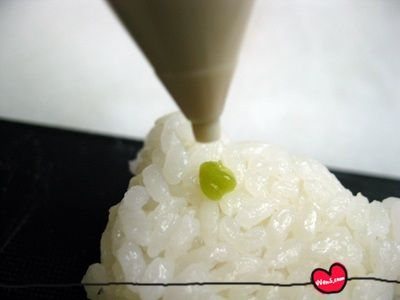 Cute or not!!! Hahaha. If you have nothing better to do, or have more time and effort to make them even cuter, you can cut seaweeds or other food to decorate your
onigiri
s weh. Hahaha. I dint have much time the other day and therefore I did only very simple ones. I will take some time to buy more food fillings to make my
onigiri
s even cuter and tastier :)

See!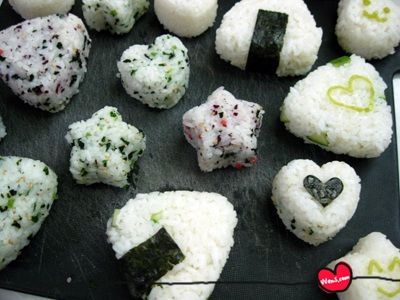 Masterpiece on the last Sunday. Will make more soon once I have the time! Very yummy okay, not just cute. Now, tell me your special or creative guides and ideas on making

onigiri

! :D