Thank You
For the un-seen love and care. For the love you gave but not shown directly. For the shelther you gave me. For the money and effort you spent on me. For the early mornings that you sent me to school, I know how it feels now. For the breakfast you sometimes prepare for me but I do not take them. For the lunch and dinner that you took years to learn after he left. For the RM200 you sponsored for my beloved concert. For the J.Co donuts you lined up for. For washing and ironing my clothes, I'll get a washing machine for you if I win the Rm10k ;p For the money when I have none to feed my Tofu. For the soya bean you buy everyday in the market. For sharing clothes with me. For the RM30 prepaid card. For the pimple blemish cream. For Astro On Demand. For the farts you "released" in my room. For your tolerance on me. Also the tolerance you gave on me and my Mr. Jay. For my favourite ABC soup. For liking my friends. For not controlling my studies, friends I mix with and the boys I like. For what you gave me in my biological genes, but I dont like the wrinkles I have on my neck :( For the blue skinnies you bought for me yesterday. And counting....

Thank you.

Happy Mothers' Day and Happy Birthday, Mum.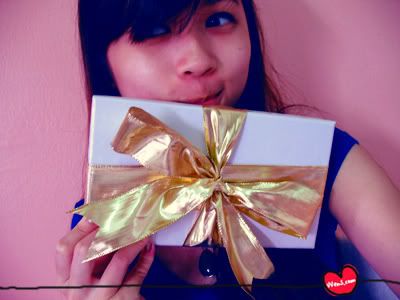 p/s : And I'm kinda broke, I cannot buy you Louis Vuitton and this is the best I can afford now. Hope you'll like it when you receive it tonight.
Labels: General