The 24 Hours Shoot
Date : 06 January 2008
Time : 5am-5am!
Location : Ara Hill, Damansara.

It was the last job that I'm going to participate in during my internship period in Carrot Films. It was a music video of Atilia, a local jazz singer. The music video that was filmed bascially talks about obstacles of life and the hope of it. So, in the video you'll see everyone crying then smile; like mad. Hahaha.

Besides being one of the crew, I was one of the talent too. Haha. They picked me because I look young and fit to be in the role they wanted. It was very tiring but it was very fun! And again, here's a heavy picture post throughout the 20 hours of the shoot. I was practically like a zombie for the last few hours and I did not take any pictures later. I then realised, the last few scenes were the scene of the artiste and I missed it. Stupid me. Grrr. This will definitely happen if the singer was Jay Chou ;p




#01 The sun was rising.




#02 The pokok botak and the pretty sky. I love pretty skies.




#03 And I was the first talent on set, and the first one to go with the first scene. Me in pinafore (for the very first time in them) and my make up artists. Muahahahaha.




#04 I'm a nerd! I was a nerd. Hahaha. Whatever.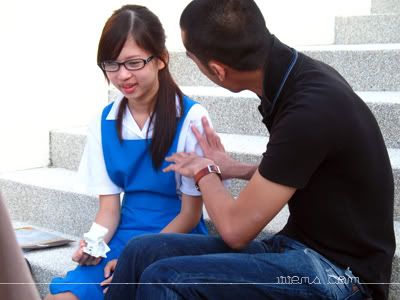 #05 Mr. Director, Henry Ooi and the nerd at the staircase. The words and the voice he used can really make you cry (Oh yeah, I'm supposed to cry). Dont ask me what he told me.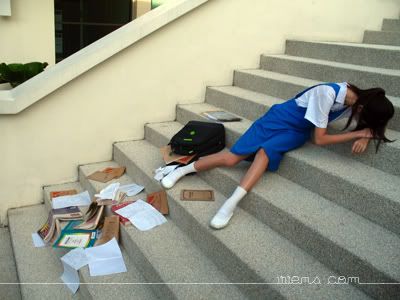 #06 And then, I broke down and cried. And why did I cried? Because I tidak layak mendapat sijil SPM.




#07 I had to throw and kick the books away.




#08 And my tears were real okie. I cried like mad. And it was ugly.




#09 I think I scared my colleagues for being a cry baby. Hahaha. The morning was an emo one. I cried and stopped and continued crying. And when the director shouted cut. I was normal again.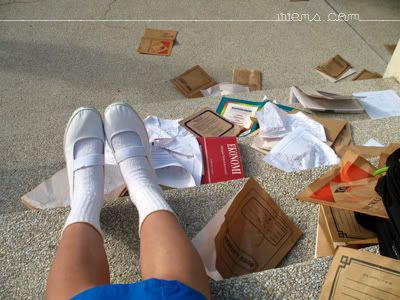 #10 My school shoe I bought for SD4.50 and the sock I found at home, not knowing who does it belongs to. Ew. And books which are named Lim Mei Ling.




#11 The assistant director wanted to snap me crying. Haha he failed.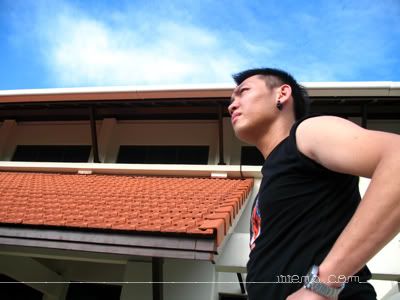 #12 I caught him in the my screen too. Meet Cheong, the assistant director.




#13 And the last take of me crying from the back. Cheong was holding a bottle of Eye mo to make the tears-dropping-on-the-paper effect. And there goes my scene. I'm done. And back to work!




#14 The last minute add-on scene of my colleague Apple, who is from China. She's having a homesick and she broke down.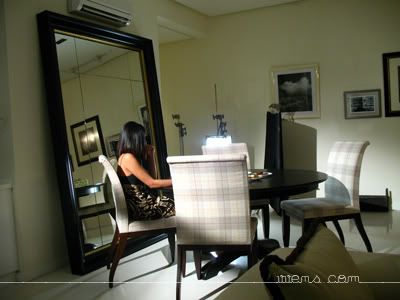 #15 The following scene happened in the dining room where Nur, a married lady is waiting for her husband to come home. Unfortunately, her husband passed away and she broke down.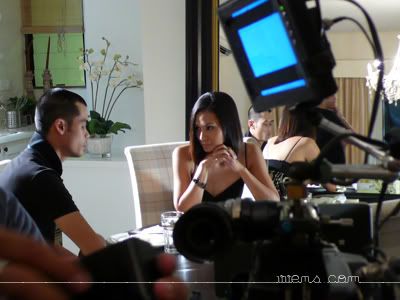 #16 Mr. Director talks to everyone before the camera rolls. He is very good in digging out people's emotion. And Nur looks very pretty and photogenic, no matter in which angle you shot her.




#17 Then the scene of a housewife who found out that her husband is cheating on her. That scene was shot at the laundry area where she broke down and cut the clothes of her husband. She was really good okay.But I could not takemore pictures because the place was to small for us.




#18 Next was the scene of a couple who just had sex but dint seem to look like, quarreling because they realised the girl was pregnant, accidentally! Hahaha. It was funny because they were funny. Omg. What am I talking about? I just cant stop laughing watching them shot that scene. Their tears were fake anyway.




#19 When they left, I took place at the scene because I find the background pretty in shots. Hehehe.




#20 Cindy and the props, that everyone thought that it was some food for them to eat.




#21 The starfish jump!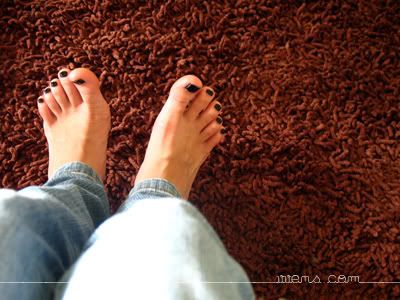 #22 Recently I have this thing to shoot my legs and the foreground. I remember my friend,
tutucake
doing that too! ;p Sorry ah I wanna copy abit. Can or not?




#23 The in-house colleagues, Apple and Jojo.




#24 And this is what I found in her camera she held in the picture above.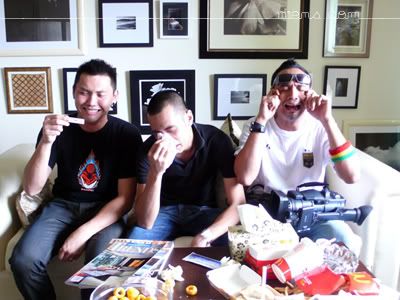 #25 Mr. Director is one of the funniest guy I've met. Hahahaha. Together with his assistant and the one who filmed the-making-of the video.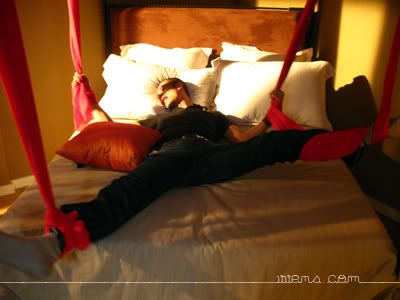 #26 I die laughing at Mr. Director doing this in the next scene of a prostitute's room.




#27 And also die laughing at Cheong, the assistant director who helped out in the scene as the guy who just gave her business ;p




#28 Vanida, an award winning actress in Malaysia was the best crier or the day. I was totally impressed by her. She has no emotion on her face when she dropped her first tear. And it was supposed to be like that because she's numb and sad being a prostitute.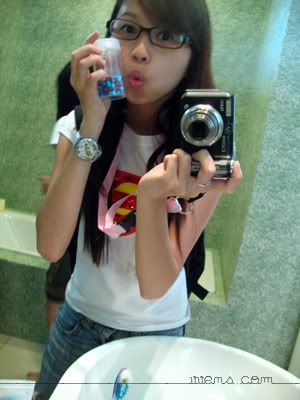 #29 Then, I found pills. Colourful pills in the toilet which are used a prop for the next scene.




#30 This scene is starred by Irene Santiago which I think she looks familar, vice versa but could not think of the place we met. She's a junkie in the toilet that broke down and started throwing things in the toilet.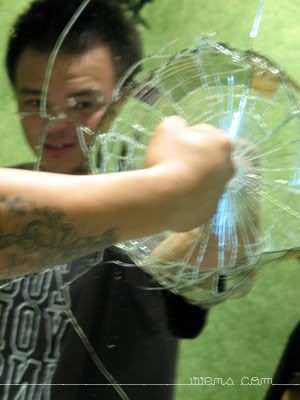 #31 And this is the result of it.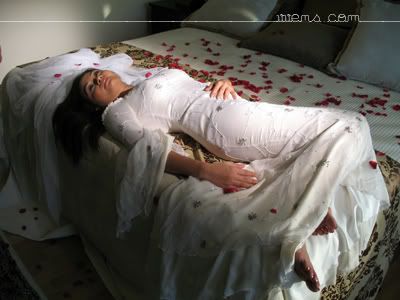 #32 The next scene was tough because our talent needs to force herself in a gown that she could not fit and cry lying down like someone dead.




#33 And this is me camwhoring at the wardrobe room.




#34 Here comes the scene with a real pregnant lady where she claimed she could not cry. She's a happy person. But when she went on set, with minyak kapak, she actually cried out lout, letting her emotions out. It was good! I was touched.




#35 Alot of scenes right? That's why we need 24 hours to shoot. And this scene is talking about a man who cried because he was announced bankrupt. I dint get to see him act here because it was already 11 and I want to sleep so badly and I hop on to a bed and rest.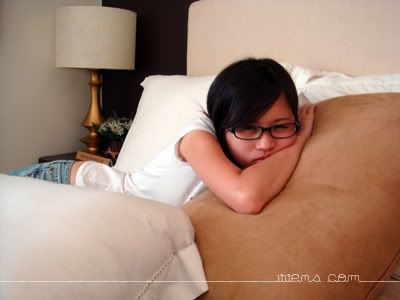 #36 And was caught in action. Haha.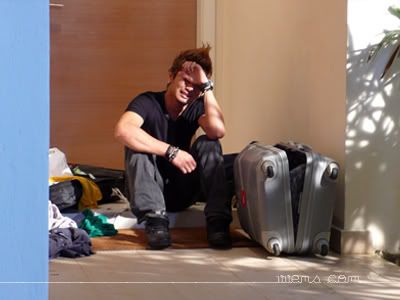 #37 Next, the punk boy who cried because he was kicked out of home, being a punk. He cried very loud lor. Scary.




#38 And the last scene besides the singer herself would be the scene in the toilet again where this hot girl, Merlisa was raped. She's very pretty lor. And I was told that she used to be a very famous model.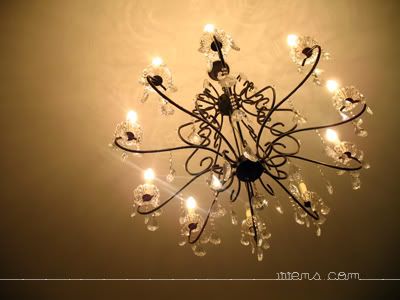 #39 And guess what, we waited 1 hour to shot the singer later *_* We were dead bored and tired during that one hour.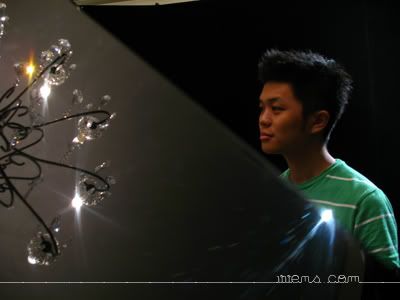 #40 And we started fooling around.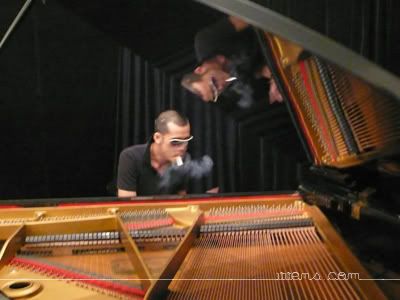 #41 Mr. Director is here again!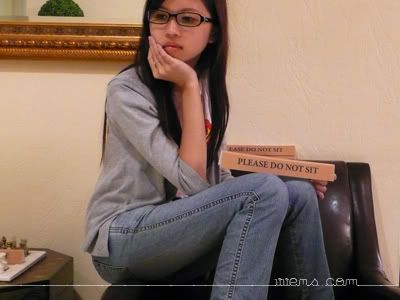 #42 And me, sitting on a chair that I'm not supposed to.




#45 The picture that I really like because of the chair beside. It has very pretty motif.




#46 Mr. Director in action again.




#And finally after an hour, we get to shoot the singer here, at the bamboo garden. But I was busy doing my things and therefore, I took no more pictures.


In short, it was really fun and tiring. Hahaha. And it is also going to be my last job for internship. I'm leaving my intern soon which I'm quite sad about it. I enjoy working here. But I think I'll always have the chance to work with them in te future if I choose to enter in industry :)