Serving Fresh Carrots #05
Day 21
Its a brand new monday, a brand new boring monday where I almost did nothing besides printing and printing.

Day 22
A public holiday for me. For almost 3 weeks, I dint had a FREE day at all. On that day, I went out to have a hairdo and to my grandparents' place. And I found flower on the cactus! After years, finally the flowers on the cactus blossomed.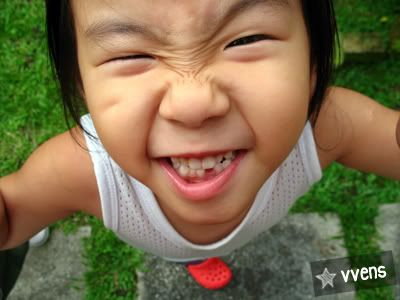 And I caught a picture of little Tammie being cheeky. Oh! Someone lost her front tooth. Hahahaha.

Day 23
That Wednesday was the fastest Wednesday which I've been through because there were alot of things to do. At first, I followed my colleagues out to buy tools and stationary for the shoot day. And I embarrassed myself at the shop. Because I adore disco ball so much, and I saw tons of it in the shop, my eye glued on them and tripped over a vase beside me. Very malu lor.

Later, we went to banks, furniture shops and mamak stalls before we headed back to Carrot. Back to Carrot, I had to prepare the director's shootboard which is going to be used on the shoot day too.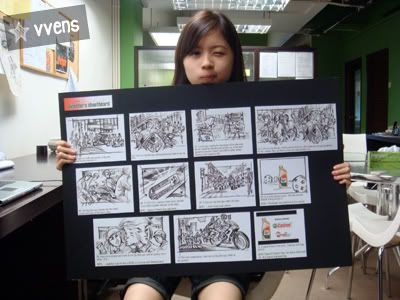 Me and the shootboards. And these did really occupy my whole Wednesday :)

Day 24
I started my day in office watching DVDs because no task were given. But after awhile later, my executive producer gave me a research to do about Dubai, it occupied me till 7pm. I was taking it like my college assignment, was very serious about it. Hahahaha.

Day 25
And during yesterday, I started my day watching the Finale Season of ANTM Cycle 9. I'm very very very disappointed with the results. Jenah should have won. Jenah should have won. Jenah should have won. Jenah should have won. Eww.

*I cannot recall what else I did*

OH! And I did alot of photocopyings. ALOT. ALOT. And attended Carrot Films' monthly meeting. It was quite an interesting meeting. And I guess that's all for my week 5 of internship. Week 6 will be a very packed week for me.

There will be a BIG suprise on Monday plus my whole family from Singapore is coming over for the week. A tvc shoot on Tuesday and maybe Wednesday, which means I cannot join my family trip for both the days. Man. So ngam for what. And a family gathering and special activities on Thursday and what's for Friday? It's the tong-yuen day!!!!! One of my favourite yearly festival :)
Labels: General