Eating Carrots #02
And more updates plus pictures about my internship life! :)

Day 06
I did nothing more than videos complying and researches on directors for the clients. Although its a small task, but it took me the working hours to download the videos online. And oh! I learnt the trick to "steal" videos that are un-download-able. Muahahaha.

And guess what occupied me while downloading the videos - it's Cindy's new toy, Sony Album T that has one of the coolest function in a camera, the smile shutter. I love this function because smiles never get fake and un-natural in pictures anymore!




#01 The very pretty white camera. She's got more than the camera when she purchased it. She's got so many freebies like 2 Rynn Lin's concert ticket, one ODM watch and many more..




#02 The very cool smile shutter function. I wonder if there's going to have a new function for the ladies - the pout shutter like this;




#03 So called pout shutter. Muahahahaha. Cute what, not meh?


Day 07
It was a boring day continuing with more videos compilation. :(

Day 08
It was also a boring day with nothing to do and I took some pictures with Cindy's camera.




#04 My bling bling shoes and 1/4 of Cindy's.




#05 Cindy's oh-so-pink Sony laptop and mouse together with our water bottles. Mine is the orange one.




#06 My colleagues who did not look into the camera.


Day 09
Well, that Thursday I did cuttings and scanning. It was boring. I did video compilation again.

Day 10
I fell sick. I was having headache, coughs and flu. But that day, I was happy that I could join the very first pre-production meeting of our up coming commercial shooting for Castrol :) Oh, and I looked for shooting locations again. This time, I was supposed to look for monastery, call them up and ask about it.

I took pictures on that day too.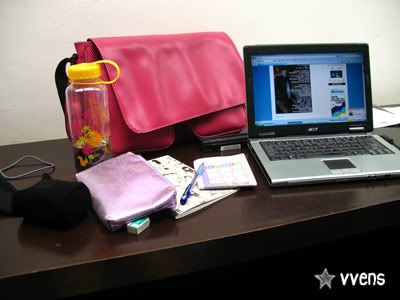 #07 My work space again; with my oh-so-big-and-pink bag!




#08 My notebook which has a very cute cover; doodles!




#09 And a picture of our national flower, hibiscus during my lunch hour :)
Labels: General