Bugis' Day

Did I mentioned that I want to go to Bugis Village? I must be stupid, because the place its Bugis Street. Hahaha. Its the biggest street shopping in Singapore. And Me, bring stupid brought long sleeve clothes here and who knows, the wheather here in Singapore is much more hotter than in KL. Like omg, I'm even sweating at home. So, I do not need to mention how sweaty was I in the street shopping.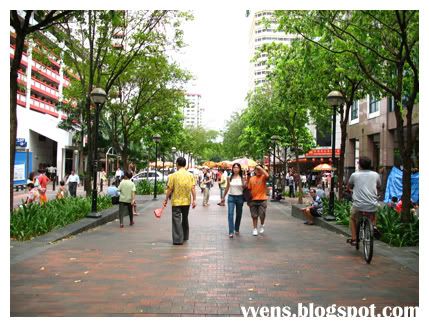 I went there in the afternoon with my mum for shopping. But before that, we went to the famous temple in Bugis. The crowd there contribute more to my kepanasan leh. Plus the fire, candles and joss sticks. And that's why I did not take any picture of myself because I looked like shit, a sweat one. ;p

And the first thing that came across my mind when I reached bugis was, TUTUCAKE! Cannot cannot miss it. When I was taking the pictures of the cake, the stall's uncle stared at me, "Are you doing a food journal?" Me,"No. Just taking because I cant eat it at my place..." :) And then, we started talking and he ask me to start the business here in KL. Haha.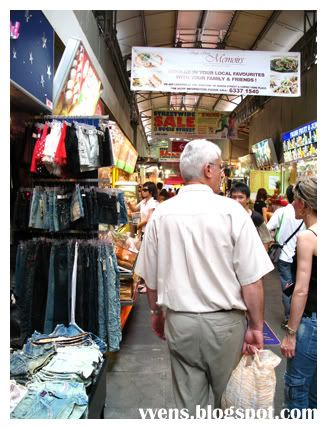 It was very hot and tiring, and sad. Because I left only SD30 in my wallet. What can I buy in the largest street shopping here in Singapore with only that amount of money!? Ish. But I did grab some cheap stuffs.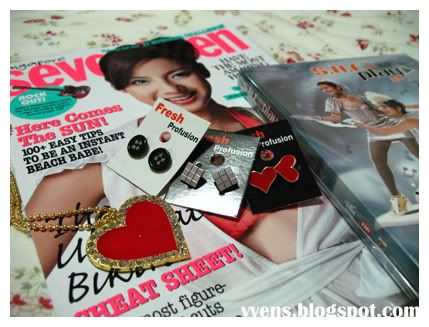 I bought SHE's lastest album which cost me only SD8. Nono, its not pirated but its China's original CDs. I'm not sure why they are so much cheaper. Besides Jay Chou's albums, I would not spend so much lar, so no choice I buy China goods. Better than pirated okay. I bought nice earrings and a pretty bling which is SD7. And a suprise stuff that I'll reveal later back in my home sweet home. :)

And also a copy of Singapore's Seveteen magazine. Speaking of that, I received a call from KL today, form Seventeen! They asked me for a photoshot. I damn happy okay because I wanted this since quite sometime ago. But my heart breaks when they told me its on tomorrow! :( :( :( :( :( :( :( Sigh.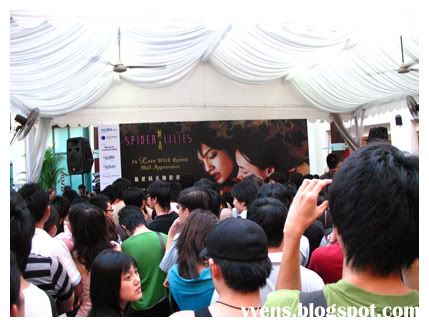 Later at six, my mum and I decided to head home because we were exhausted untill we saw a stage far far away. It's Rainie Yang! She's here for her new lesbian movie, Spider Lilies. She's going be here at 0615pm, as stated on the giant poster backdrop. So, my mum and I decided to stay longer to see the cute little Rainie. Mana I tau she was there 1 hour and 35 minutes late. Waited and waited until we gave up. We went back to a shop in the street shopping to get my mum's shade. We were quite disappointed. But when we were heading back to the MRT station, we saw her on the stage already! Ish. I was so near in the begining. And now, all the way behind the crowd. I cannot take a decent picture of here. The best picture taken (ewwww) is as below;

She's the one in red lar. I zoomed in to the maximum and that's what I could take when the crowd was pushing and squeezing. And then we left lor after awhile because we memang very tired and hungry already. Sigh. And it was almost 8 when we left.
And I call it a day, at Bugis.