Back in Green & Yellow
I had a group presentation today for the subject, Media History and Law with my fellow classmates. We're supposed to present our assignment about
Article 10 of Malaysian Constitution
in traditional clothes! Formal clothes will do the same too. And the ever first outfit that came into my mind was the untouched green & yellow
baju kurung
for 2 years, I had in my wardrobe. It is my high school uniform! I wore it to college today for my presentation. Hahaha. That really makes me miss school and my friends that I havent been seeing for quite sometime.
My group, (from the left) Natalie, Jing Jing, Carmen, Mr. Indy, Cindy and I.
See how funny I look in it! Hahahaha. Some of my coursemates were even laughing at me for wearing a school uniform to college. OI! I find it quite fun lor! I suggest you fellow people who are in colleges now try this out! Haha.


Another group that has only one guy wearing a traditional outfit.

The girls' group. (From the left) Yinly, JiaYih, DanDan, Mr. Indy, Laura and Lilo.
Another group of girls from Indonesia.

And many more pictures.... with my friends because my camera died again. Sigh. I need a new camera badly. Seriously.


And my point is, I really miss wearing uniforms to school. I'm really sick of choosing clothes to wear every morning to college. I dislike wearing repeating outfits but I do not have alot of clothes to wear differently everyday. How I wish I can wear the uniforms once again. Come, any ex SSG-ians is going back to SSG for IU day or Sport's day? Let's wear the uniform back to school! I am serious! I am still keeping all my uniforms with me!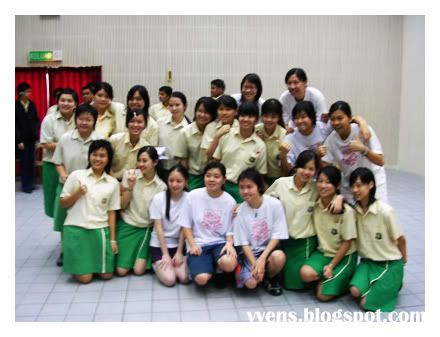 SERIOUS leh! I want to look like this again.....
Labels: Assignments, General, Photos