Mee Cake

To all mee and egg lovers, I'm going to teach you how to cook mee cake in this entry. Hahahaha. I wonder if you have ever ate this, but I've definitely have not seen this cute snack before. Hehe.


First, get a packet of instant mee, the best would be Mamee because I think the mee is absolutely delicious. Maggi would be nice too. And also two eggs for each packet of me you want to cook. The portion of one packet of mee is just right for 2 person.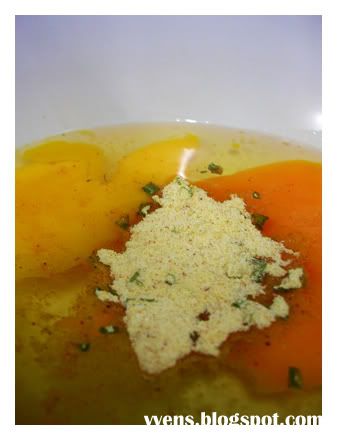 Next, cook the mee with clean water. While you're cooking the mee, do not waste your time. Beat the eggs in a big bowl. BIG bowl. Then, add in the seasoning available in the instant mee packet. Chicken flavour would taste the best, but no harm putting other flavours like TomYam. Haha. Then, mix them well.


When the mee is done, put it in the bowl with the eggs and seasoning. That's why yo need a big bowl in the begining. And make sure you don't take any of the water there and put it into the eggs.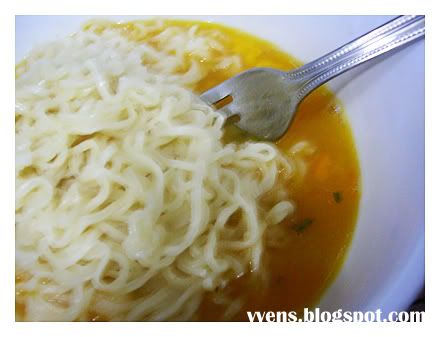 And now, you can heat your pan or cooking wok with oil. More oil will definitely be better. So that it does not stick to the pan. Make sure you absorb the oil later with the kitchen tissues la. Fry bit by bit of the mee, about one bite everytime with some eggs. Fry it like pan cakes.


Turn it over once in awhile. And repeat this until you finished all the mees and egg. When you're done, you mee cake will obviously look like........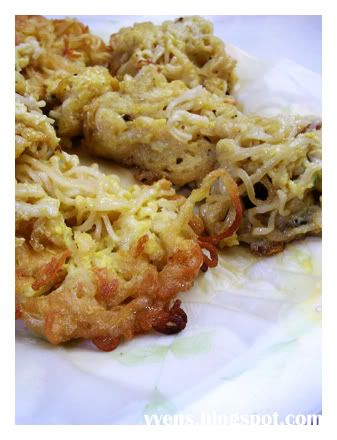 IF you are a bad cook like me. HAHAHA. But it still taste delicious! Omg. Even better with ketchup sauce. Better try it when you're free because its like super easy to prepare when you're hungry. Even a bad cook like me can handle it. Hahahaha. I promise its nice because my brother loves it. Hahaha.
Credits to Chiam Carmen for teaching me ;p