When I was 12...
The year was 2000, the millenium year when I was twelve. It was the dragon year, and it was also my changing point of life, my school life.


I remember, I did very badly in my final examinations in my 5th year of school. The results were the worst results I ever get. I was one of the last students in my class. Never have I done so badly before. The results made me ended in the 3rd class of the year. Before this, I've only entered the 2nd class, all the time. All my friends are all from the B class. I'm the only one who dropped into the C class. Can you imagine how sad was this little girl at that time. I'm losing my friends. They were the only bunch of friends I've made. I'm not friendly when I was younger.


I have to admit that I did not have fun in the first week of school when I was in primary6 because I wasnt suiting myself. I could not accept the fact that "GOSH! I'm not in 6B! I'm in 6C man... Its like eating shit (6C means that in cantonese)!" But lucky, the school decided to change the name of classes which means, my class for that year was 6A. No, its not the first class or what. I'm just lucky when they changed the names to S, G, A, R, D, E, N (in order).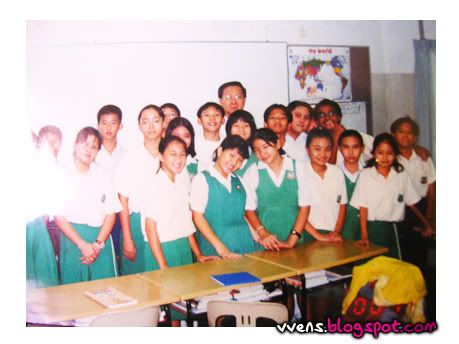 However, I still had a few friends in there where I made earlier like PuiYeen. She was like my saviour man. And Cindy too. I knew her since primary one but we got along that year when we realised we had the same birthday. And and and, it was the year Susan left Malaysia too. Or not she would be another girl in the class that shares the same birthday with us. So coincident right! Last but not least, Peggy, the Stephanies and KongVivien too. Sooner, I blended with them and life wasnt that bad afterall.


See, I have a different bunch of friends. I even learnt to speak Cantonese to mix with them. Previously, I was always with Denise, Christine and everyone else who speaks English. Indirectly, I actually exposed myself to more people. I used to be a quiet little girl who doesnt mix with new friends. Haha. I always think that if I did not enter that class that year, I would not have been who I am today. I'm a totally different girl after that year.
And besides the girls, I started to be friend with a few of the guys. They were PohJuan, YiKye, Joshua and MarcusSam. Yes, There was only a few boy classmates who would talk or be friend with me before. Even my buddy today was one of them who did not want to talk to me. I still remember how mean he was to me before this.
I'm always the tiny girl with the average results. I had standard position in class every year. Its always in the range or number11-16 in the class of 25-30 students. But ever since year6, I'm always at the top3 in the class. HAHAHA. I did not want to be mean right now but its true because the students were different. That made my self-esteem grew higher. And that always make me like a smart little girl in the class.


Besides the changes of status and the friends I made, it was also the time when a little girl starts the i-have-a-crush-on-you thingy. And that time, the silly us hurted ourselves also. You know kids, hahahahaha. I remembered we would cry every single friday. Its either you or me because of the boy-and-girl thingys. I cannot stop laughing at myself for being so stupid and silly that year. I would even shed if I see my crush being together with some other girls (basicaly my good friends). SO STUPID RIGHT!
But I did study very hard to climb back to the 2nd class still. And I made with, together with my friends in 6A. Isnt that a good thing? But sadly, my friends in the 2nd class climbed up to the 1st class as well and we never get back into the same group.
That year was like my changing point. Everything was different in school ever since.