Like a pig
I think I forgotten to wish everyone here, HAPPY CHINESE NEW YEAR!

Yesterday was the first day of the Boar year, which is the piggie year. As usual, I went back to my grandparents' place for reunion. I cleaned myself once I woke up in the morning and I changed myself in my newly bought clothes. It was black. It was the only new top I bought for Chinese New Year. I thought it was okay to wear black because I wore black too, last year. Hahaha. How would I know that my mum is more superstitious than me. She stopped me from wearing it to their place. She said that they'll scold and stuffs. Aih. I've no other choice but to wear some other "bright" old clothes.

Although I'm not wearing something new on me but at least I've something new "under" me. Hehehe. I bought a new shoe which costed me a bomb! But no deny that the shoe was a very pretty pair. :)
Once I reached their place, the first thing I did was eating the cookies instead of wishing and greeting them. Haha. That makes me sounded really like a pig. I could not resist the cookies. I ate so much that you'll never imagine. I ate non stop since the week before Chinese New Year. even had some half-eaten bottle of cookies in my room, beside my bed. Haha. How I wish they can make me grow fatter this year (like a pig), but at the right part. ;p
Like every other years, my grandparents would cook the longevity mee, mee suah for each and every of us plus a hard-boiled egg. It is like a tradition in my family to eat it. It a must-do thing already. If you dont know why is it called the longevity mee, it is because the mee comes in a bundle with only one end. They do not cut or tear it when they cook it to make it as long as possible, like our life. And when you're eating it, you're not supposed to bite them into smaller pieces like how you eat maggie mee. Hehe. We're supposed to take a small portion and eat it, bite it in our mouth lar. Just dont bite it, its like cutting down your long life. Hahaha.

And do you know what's the best thing durin Chinese New Year besides gettng angpaus? Its the soft drinks in your house! YAAAAAAAY! It is the only time where your parents would not control how much you drink. Hehhahha. I've so mnay varities in my house you know. It would be something funny if I dont grow any fatter after the season with the soft drinks plus cookies. And not forgetting the reunion meals.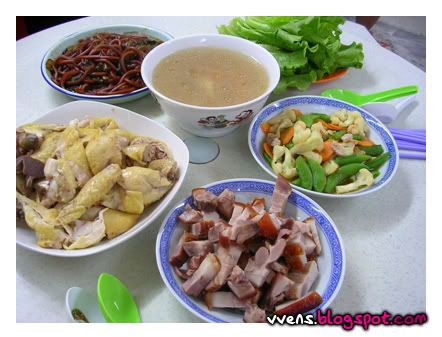 I dont understand why people can cook much better during the festive season. Why la! Why lar normally the food not a delicious as these! Let's see whether can I really gain weight during this time. Hehehehe.
Current weight : 35kg ;p
*Off for lunch!*