Because we're 20!!!
On the spot, right now!!! Because this is a scheduled post on 12am of Sunday. Hehe.

Remember me mentioning that its gonna be a packed weekend for me? Ya well, the day before yesterday we had a mini birthday party. The first time after 2005, again, three of us had a birthday celebration together. For the years in between 2005 and 2008, my birthday were spent quietly but sweet. Even worst, was on exam last year. Haha.

This year's party was prepared last minute too. I dint thought of having a celebration as my grandpa's leaving hasn't reached the 100th day yet but my family thought otherwise. Hmmn, I asked them before I made this decision and they thought I should bring up something happy. My grandpa would be happy too. Plus it was Halloween that night (supposedly to be the death's party too) ! So anyways, as it was very last minute, we dint get to prepare and invite a lot of people. We only called a small bunch of friends and cook ourselves. Haha and the funny thing was, the small bunch of friends dint exactly came from the same circle. A bit of here and there ;p Sorry if I made you guys feel awkward. Haha.

Here again, I wanna thank each and everyone of you who came to the party. Thank you Michael, SiewCheong, and Luiz and friends for the cakes. Thank you Ginny for the brownies :) Thank you LiMing for the birthday card. Thank you YeeLing for the doggy pouch. Thank you LiePeh, PuiYeen, KaiYee and WeiWei for the card and make ups. And also two these 8 people who I must thank too.!!! To be revealed below with pictures :D

Pictures start here!



Event : Our 20th!
Date : 31st October 2008
Venue : Cindy's house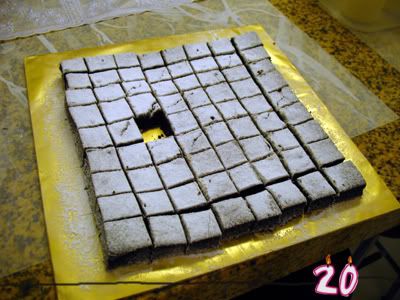 #01 Ginny's brownie! She claimed that they dint taste good but everyone else said it was goooooood la! Hehe. And someone told me that they looked like mahjong *_*

The party was kinda quiet and boring until the lame game started. What lame game? Well, the person with the smallest value on his/her poker card needs to eat/drink whatever we prepared for him/her!!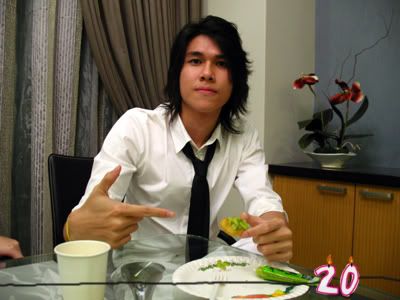 #02 The first who had to eat, Luiz!!! Look at the amount of wasabi he is taking in, and he was totally fine!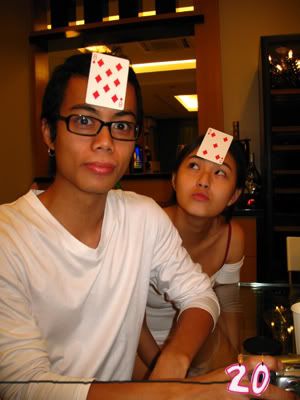 #03 The oily foreheads couple ;p Ginny and Fugz. Haha.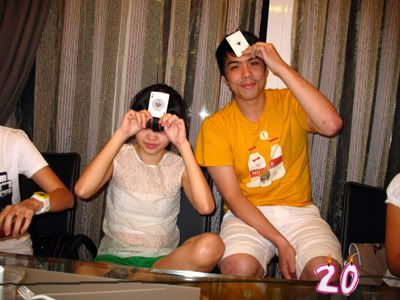 #04 The Aces' couple! Carmen, one of the birthday girls and Jenhan.




#05 The keep-
kena
-ing couple!! Cindy, another one of the birthday girls and Luiz. Haha! Look, Cindy is holding the card with the smallest value without knowing it herself!!!




#06 LiMing, the guy who dint came in our theme, WHITE! Beside him is KaiYee and half-faced LiePeh.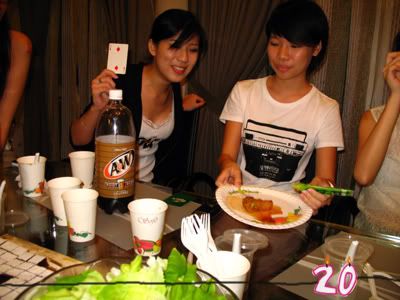 #07 The cards LiePeh was holding were different cards in different rounds. And this picture is the evidence of how PuiYeen treats her BFF who was losing. Wasabi with wasabi. Hahahaha.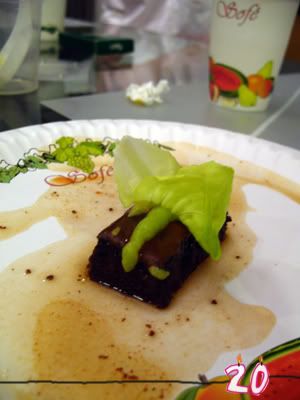 #08 One of the new dish in our menu, chocolate brownies with Tabasco base, wasabi topping and veggie. Guess who had to eat it? The not-so-lucky Luiz!


A few rounds later, or maybe I've lost count of the rounds, we stopped and proceed to the cake cutting session! Yay!!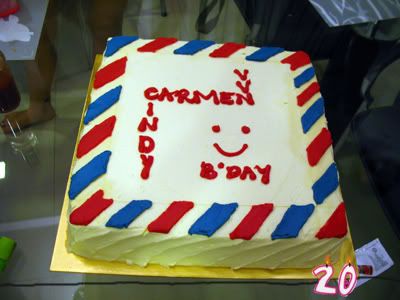 #09 Envelopes themed cake!! But someone misspell my name :(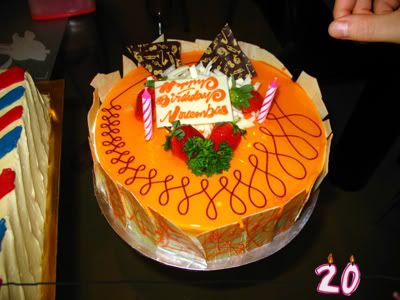 #10 Halloween themed cake (I think so.. Haha)!!




#11 Chocolate cake!! :)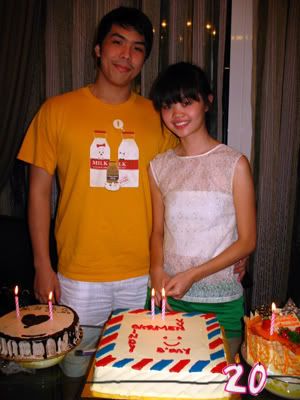 #12 Carmen and Jenhan.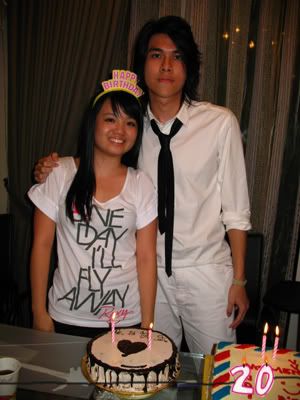 #13 Cindy and Luiz.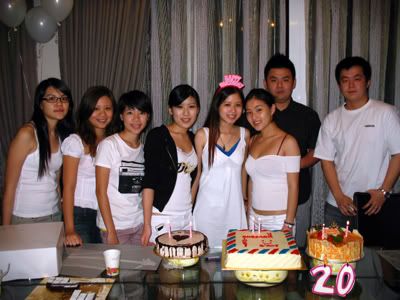 #14 The girls and I with the companions of two Kung Fu Pandas :)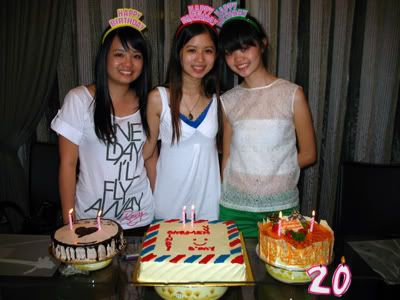 #15 The birthday girls!!! Okie let me explain a bit, Cindy and my birthday falls on the 2nd of Nov (But I'm still 4 hours older) while Carmen's falls on the 8th of Nov.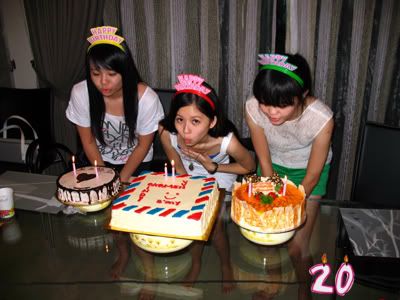 #16 I look anorexic here but the girls look cute! Hehe.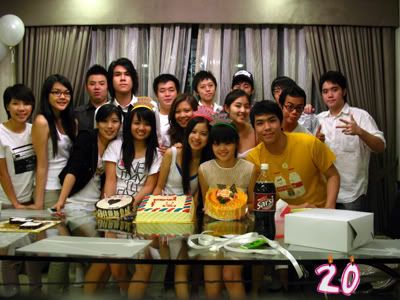 #17 The group picture.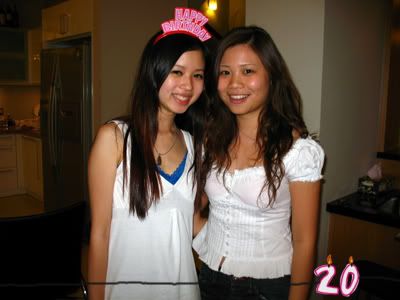 #18 YeeLing and I :)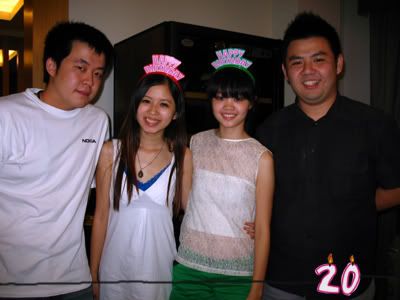 #19 Bryan, me, Carmen and LiMing.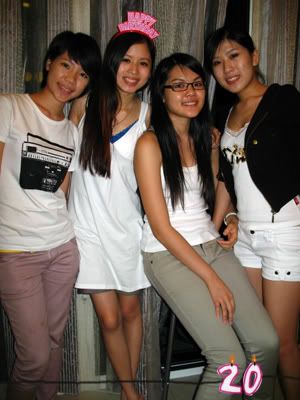 #20 PuiYeen, me, KaiYee and LiePeh. Short of WeiWei :(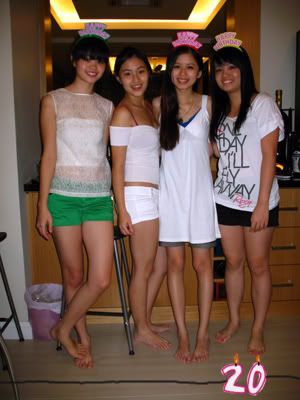 #21 The birthday girls and Ginny. Cindy, sorry I am burning your toes. Haha. And Ginny, why your face so sharp looking one?




#22 This is what we use to call ourselves sometimes.




#23 Miss Chin with her profession of cutting and distributing cakes to the students friends.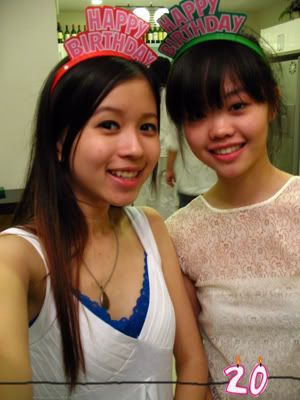 #24 Camwhore!




#25 My cute friends, PuiYeen and Cindy. Anyways, I like the pink knife a lot but where is it now?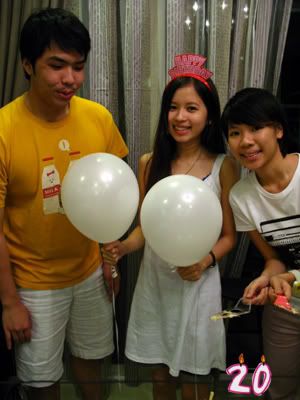 #26 Us being random and silly.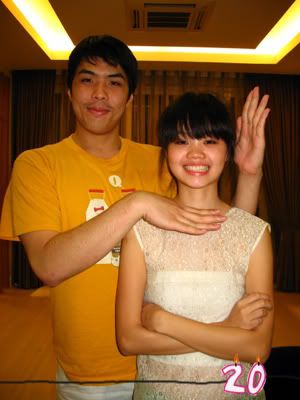 #27 Them being plain stupid. Hahahahahaha.




#28 The girls and the helium balloons.


Jeng jeng jeng... The gifts opening session!




#29 Carmen and the bag we bought for her! :) Hope you'll like it!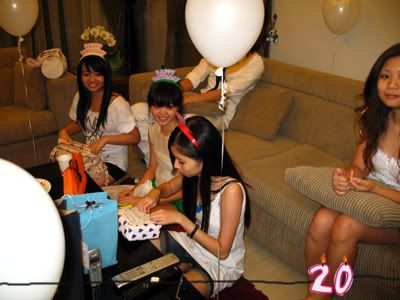 #30 I dint smell anything fishy from them at all.....Look at their faces!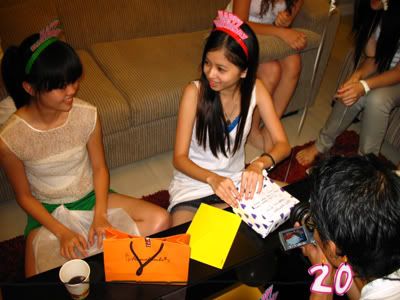 #31 "I dont belive you all lar...... What is it!?"




#32 "This must be fake!!!" *criessssssssss*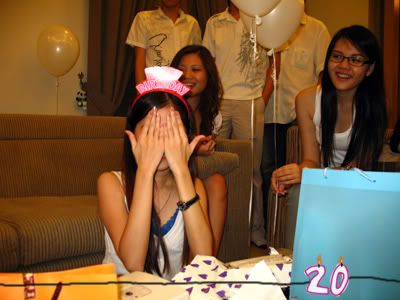 #33 JenHan, I told you to stop taking right :( See lar, you missed Cindy out. You dint take her opening hers!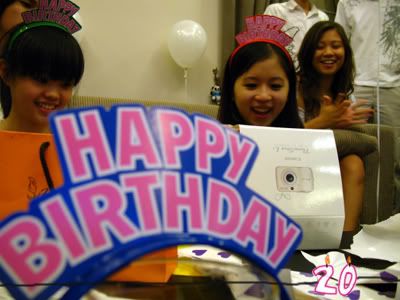 #34 I was surprised. Touched. Stunned. Speechless, or did I mumbled a lot? Happy. And I dont know what other feelings do I have..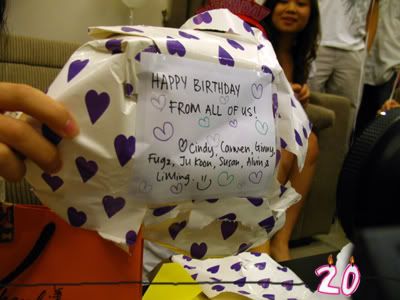 #35 I wanna thank these eight people!! :) THANK YOU! Thank you Carmen. Thank you Cindy. Thank you Ginny. Thank you Susan Low. Thank you Fugz. Thank you LiMing. Thank you Alvin Leong and thank you JuKoon. This is totally unpredictable. Really. What is that they bought for me again? A WHITE CANON POWERSHOT E1!!!! :) Why you all like that one? Thank you!


Oh wait. I was totally lost, I dint know what to do and I dint thought of using it to snap the first picture with you guys :( Stupid me. I'll use it today! It starts on my birthday! :) And I shall name it very soon :)

Anyways, that's all for the night! Thank you again!!!!

And a very

HAPPY BIRTHDAY

to CINDY LIEW and SUSAN LOW!!!! :) The girls who are born on the same day with me! Happy Birthday girls!!