Because we've graduated!
Event : Taylor' College Convocation 2008
Date : 12th October 2008
Venue : KLCC


#01 The naughty girls who were giggling away. Hahaha. Why? Because we were trying to look for a nice spot to shot and there was this guy behind not moving so they stood right in front of him and ask me to snap. Then the guy also
paiseh
and moved away ;p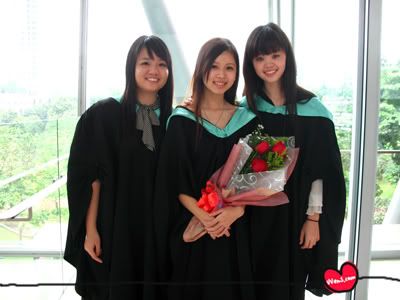 #02 The three of us! My bad to not wear collar shirt. Now I looked as if I wore nothing inside.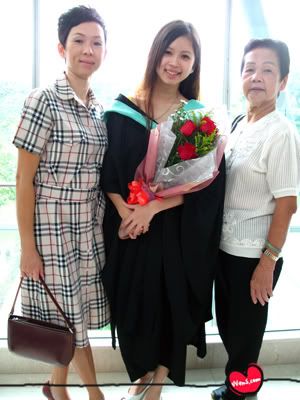 #03 My guests, My mum and my grandma. And oh! My mum got me the roses. So touched :)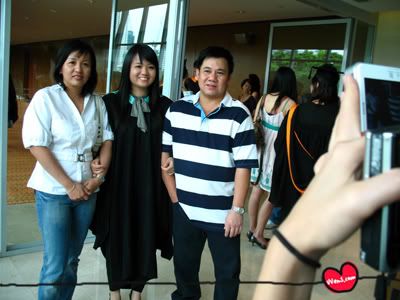 #04 Cindy and her parents.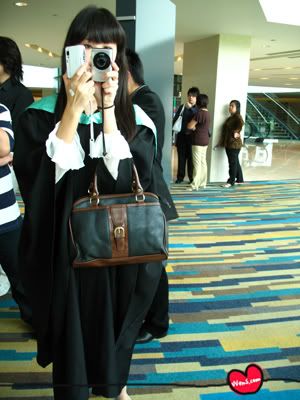 #05 It feels like Halloween already. Hahahaha.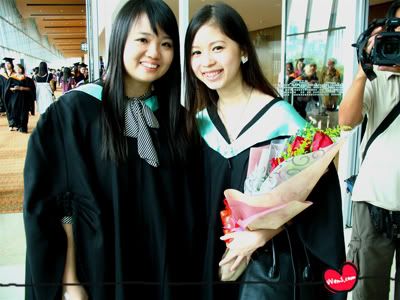 #06 Overexposed :( But hahaha, showing this because I think we are going to appear in the Convocation's video. But its RM30. Should I get it?!




#07 Jenhan and Carmen.




#08 Carmen and I.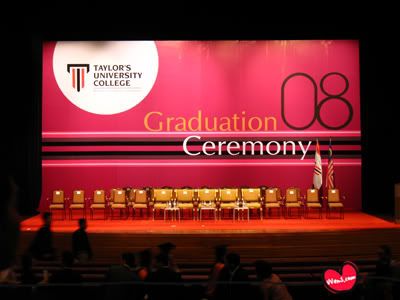 #09 Woo. The pink backdrop!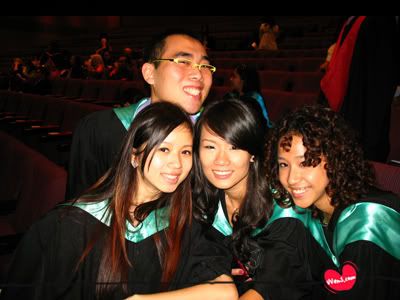 #10 I was placed sitting with them. Behonce, Amanda and Aina. And I looked seriously pale :(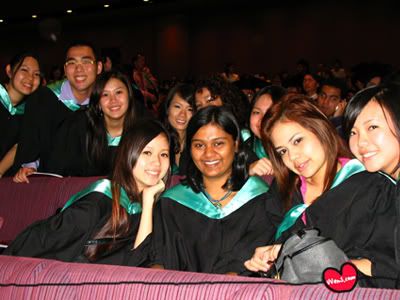 #11 The camera man is lousy la. I specifically told him, "Do not take the couches please...." And he did.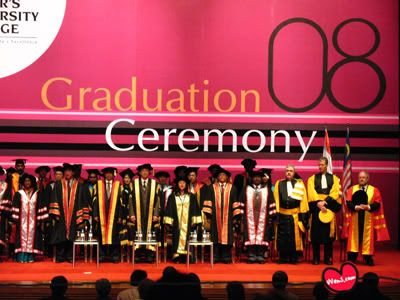 #12 And people I do not know; wearing funny funny robes.




#13 Ooh! That's Cindy!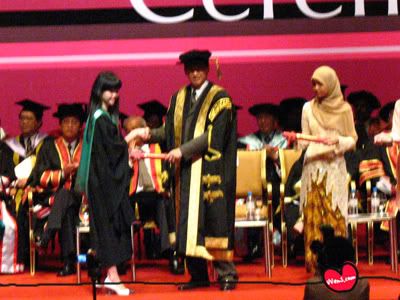 #14 And Carmen.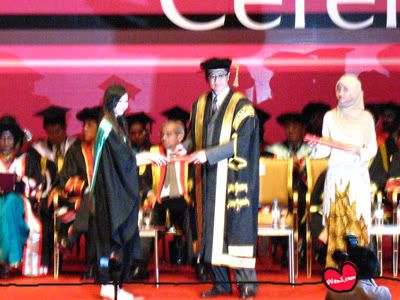 #15 Ghostly me. Hahaha It looks like I have a mortar board ;p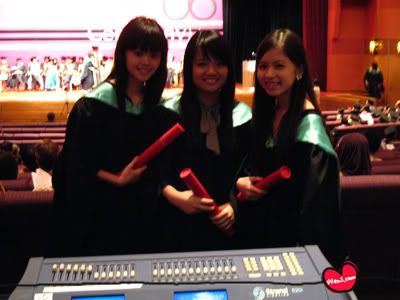 #16 Us, again. It took us so long to receive our scroll on stage as there were so many people placed before us. We were like the last batch and I was like the last few person.




#17 After receiving the scroll, there were speeches and speeches and speeches. It was really boring. And the restless me, started to take pictures again. The roses! :)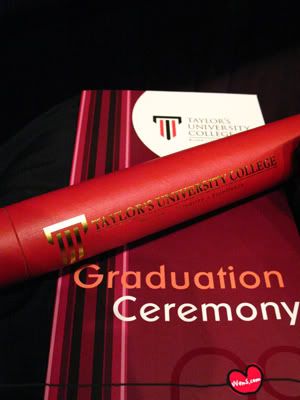 #18 The scroll and the book.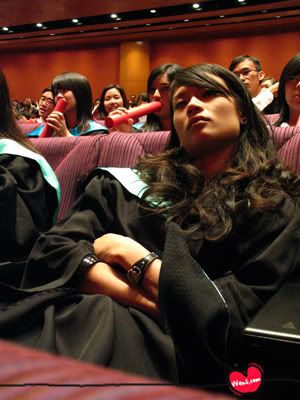 #19 Amanda sleeping. I wanted to sleep too. ZzzzZzzzZZzZZ...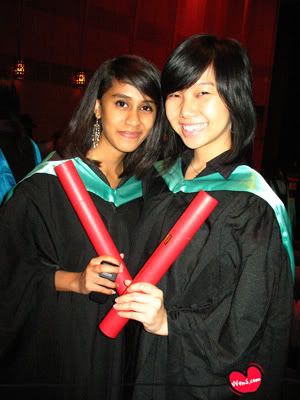 #20 Karen and SweeWei. And it was Karen's birthday yesterday, and SweeWei's today. Happy birthday girls!!!




#21 Calyn and Jacqkie. Congratulations for graduating with Merits! :)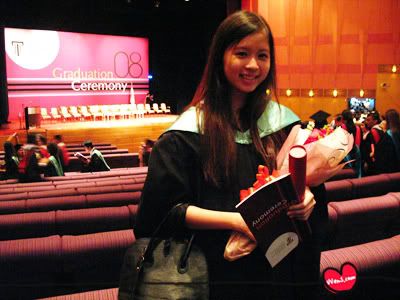 #22 Me me me!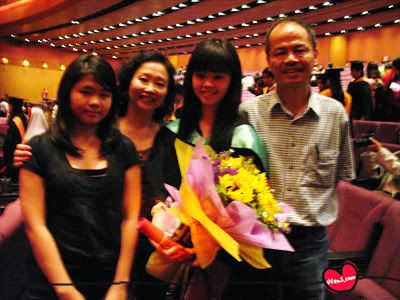 #23 Carmen and her family.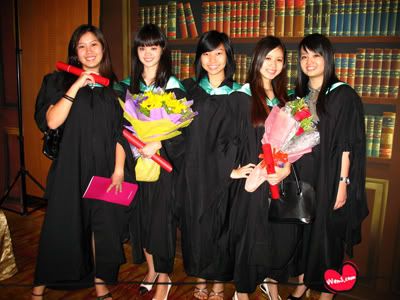 #24 The spot and backdrop where you have to pay RM100++ to snap pictures but we did it for free! ;p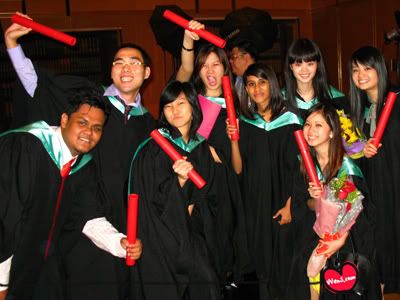 #25 Showing-off-the-scroll picture!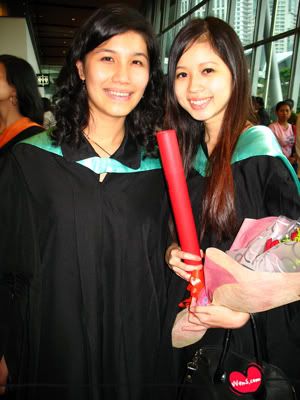 #26 Long time no see Denise and I.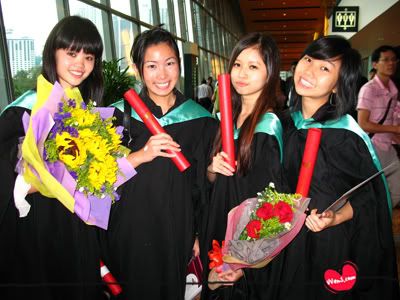 #27 Carmen, Grace, Me and SweeWei. Wanted to kiss the scroll actually ;p




#28 Lilo and I. I miss seeing you and
kacau
-ing you in college lar.. Sorry dint make it to your birthday dinner last Tuesday :(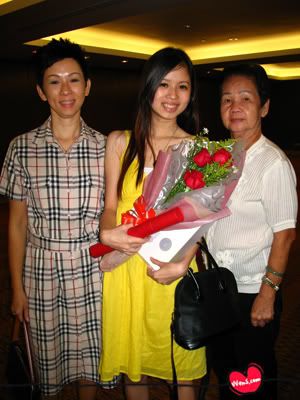 #29 Taking out the robe and heading back home. That's me again with my lovely yellow dress sized M and my mama and popo :) Wee. And they were secretly proud of me, I know. Haha.


Congratulations to myself and also all my peeps who graduated with me! We've got the Diploma :) Yay! Good luck in your Degree guys. Had a lot of fun yesterday and back to work today. Back to assignments for you guys ;p