Silence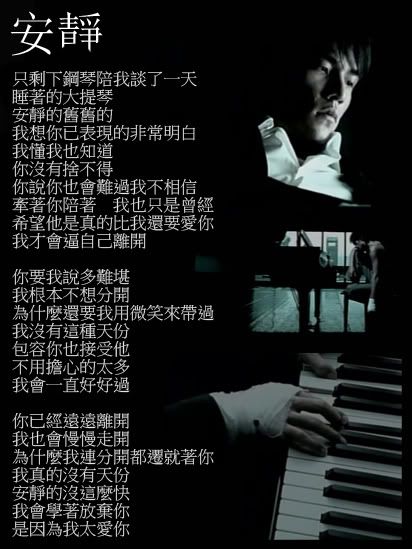 As I was listening to this song the other morning at 6.30am, thoughts were flying in and out my mind. The song has never been so close to me.

I remember the first time I heard this song was at Elaine's house. She just ripped the whole album of Jay's Fantasy. She ripped all the songs but not this song. I asked her why and she explained that the song was plain boring. I dont remember whether did I agree with her or not but I remember the next thing I did was that I bought my very first album of Jay Chou. The red album with his signature hoodie around him.

And then I began to falling love with his music. Bit by bit. But it wasnt strong enough to have my mum allowing me to go to his very first concert, Fantasy. I want very disappointed then but I told myself that I must attend the up coming ones. Since then I buy every album of his every year. As for his first album, I dint buy it. It was a give from Dewi 4 or 5 years back on my birthday. And recently, Elaine gave up her Fantasy limited EP edition for me to complete my Jay Chou collection. So sweet :)

And there was something that I dont quite remember but it was Elaine who reminded me. She said I cried during The One's concert at Singapore when he sang this particular song. I could not remember.

Back to that morning, I was revising each and every word that came to my ear from the radio. I wondered, why did they play such emo song early in the morning. It wasnt from my collections of car CDs I swear. As I was listening to what he sang, it somehow pierces through my heart, my thoughts. I held back the tears. Man, I wasnt alone and I dint want to shed early in the morning. It will spoil my day. I never come across a song that was so near to me. I thought Kai Bu Liao Kou and Hei Se You Mou would be closer but no. At least I do no feel something as strong as I was listening to this.

I have always been wondering and fantasizing about someone special would sing something to me and make it special. It never happen. And as I was listening, I put in thought that you were singing it to me. Refering every single word from the lyrics to me. Pointing it to me.

"You want me to say it, but it was awkward. I dont even want a break up..."

And that is why I said sorry yesterday. Sorry. And I dont know what else can I do. I know that feeling within you cannot be concealed by anything. And you cannot like this song by not knowing what it means. You may not relate the song to yourself but at least you should know the song to like the song. You might not bother what am I typing here. You might not even realise this. Or maybe you will think that this is nonsense but not to me.

If only one of the sentence from the song works on you...

"Dont worry too much. I'll be fine."

And this song will never be bore me. There is now a song that reminds me of you except for Qing Tian. That song. And this song now, I dedicate it to myself. All you need to is understand this. You might think that I am an idiot by doing this, plus I know how much you dislike on how much I worship Jay but this is how and what I feel right now.