Post Number 301
The girls and I went kaypoh-ing at our friends' house because there will be a very interesting photoshoot going on there.We also busybody la. Actually more to me ;p But then we were earlier tha the models and so, we had some time playing around with the equipments our friend,
Caroline
has. And here are a few pictures I choose out of uncountable pictures taken at the playground at Ridzuan flat.

And all these pictures are taken by Caroline with her Canon EOS 350D.




#01 Chiam Carmen.




#02 I like this picture because you look so cute. Haha.




#03 Me,"Look!I found something" Carmen, "EEEW!"




#04 I dont remember what happened. Why was I laughing so hard but I like this picture because all of us look funny.




#05 There is no such thing as "You jump, I jump" anymore. Haha.




#06 Well, maybe not. Hehe.




#07 Look at Cindy's hand. So scary! Like robot only.




#08 Me me!




#09 Why the pose so funny one *_*




#10 My BFFs and I.




#11 My BFFs and I again.




#12 Friends are the one you pull along when you are falling down ;p ;p ;p Just kidding. Hehe.




#13 Cindy's closeup.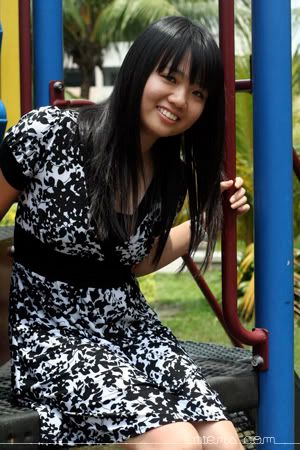 #14 And she looks very sweet here :)




#15 Wa I look tall here if you dont look at what I'm stepping on.




#16 I like this picture too.




#17 Us and Caroline.




#18 Carmen and Caroline :)



More pictures to come soooooooooon.
Labels: Photos