Because because because...
Because I went back to Sri Garden's annual sport's day like every other years :) I love school's sports day! Hehehe.




#01 The sky yesterday was very clear and it was very very hot as well.




#02 I was kinda sad that the kids now not as semangat as we used to be. The stadium was sooooooooooooo empty okay.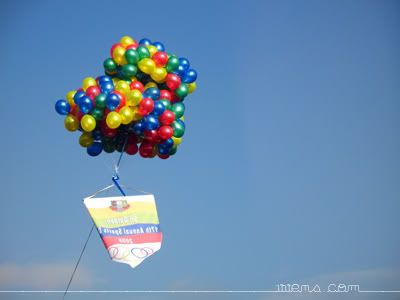 #03 Zoom zoom to the pretty balloons :)




#04 The girls I miss hanging out in high school. And I'll still wear green every year.




#05 The photocopied siblings, YuanYee and YuanKay. Hahahaha.




#06 Me, playing with YuanYee's shades.




#07 At the same time, there were a lot of running events going around. Then there was this mr.Junior doing 4X400 if I'm not mistaken. Look at his very scary muscles!!!




#08 In the same competition, there was my BFF's brother, Vincent. WA! He got he gold medal eh! :)




#09 SEE! So happy :) Hahahaha. The runnings really made me very excited although I am no longer in the team. And out ofthe events, I came out with a new term to describe the runners who "walked" instead of running. Hahahaha.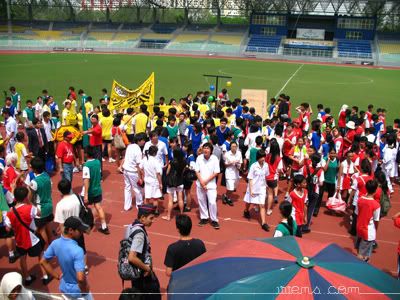 #10 When all the events are done, the students gathered in the track again, waiting for the announcements and it was also the prize giving ceremony.




#11 The happy red house girls :)




#12 And I heard he is leaving... Is that true?

And well, this year, they seperated the awards for sportsman and girl intro different classes, and all of them will received SMALL prizes. So unfair! They even had bronze medals for team competitions. No fair! Unfair! Ish! And most of the award winning students are from Blue house. However, they are not the overall winner eh. So sad.




#13 The yellow house won, again. Congratulations although I'm not happy with it ;p




#14 They won the march pass too. Not bad lar but but but yellow again. Sigh.


And the good news is, GREEN HOUSE IS NOT THE LAST THIS YEAR. MUAHAHAHAHAHAHAHAHAHAHA.