Spreading Jay-ism part3
And this was what happened after Jay left the stage. Everyone was like, "HUH? No more already?" But onviously, they wanted us to shout for encore. Some of the people from the back of the VVIP corner rushed to the front. Understood. Their actions were totally understood because I might do the same thing too if I were seated behind. Not some actually, a lot of them, mostly young girls ran to the front, in front of me and shouted, "Encore! Encore! Encore!" And I joined them in shouting that, "Encore! Encore! Encore!" Suddenly, I changed my mind, I shouted, "SIT DOWN! SIT DOWN! SIT DOWN!" very very loudly and fierce in Mandarin. Omg. I cant believe I did that. Obviously they were stunned. They stared at me and I continued shouting until all of them squat down in front *_*

I'm not being bitchy but they are seriously blocking everyone. I thought they would sit or squat down after awhile but they dint. They took the place like their territory. Damn selfish right. They were frightened lar. Cindy was too.

And I think they bitched about me. And aunties and uncles behind were praising me! Hahaha because I helped them. Mind them, there were so many elderlies and even a handicap lady behind them. Right after they hide their stupid heads away from our sight, Jay came out!! Hahahahahaha. Was right on time.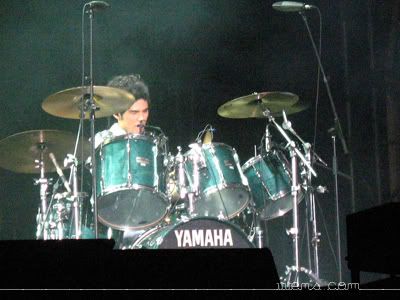 #64 Jay Chou came out with a drum set at the left side of the stage. And he was playing... some random music I supposed. Hahaha.




#65 Then left the drum and came to the middle singing his latest song, Zhou Da Xia, the song for his latest movie, Kung Fu Dunk.




#66 Everyone was shouting singing "TOFU! TOFU!" at the chorus part when he offered us the mic, as if lar.

Then the girls went out of control again. Man. Cant they just go back to their seats where they were supposed to be. They should have behave. I went mad again because I could not see Jay, cant take pictures of him. All I can see his heads of people. This time, I could not shout because the music was so loud. I snatched the "bubble stick" or whatever you call it that was given by the sponsor, Munchies and tapped on their heads and shoulder, "Excuse me, can sit down or go back to your places or not? You're like freaking blocking our views." in Chinese.

Some listened and some dint bothered. Fine! Then a few security guards went to them but they were not listening either. Then finally the auntie, friend of the handicap later was so mad and she took the "bubble stick" and whacked them "HELLO. WE NO NEED TO SEE LAR LIKE THAT!" in a very auntie slang of Cantonese. Hahahaha. Then I added, "Serve you right!" I was so mean but I was allowed to be mean for a day because I was wearing the tee with print "LITTLE MISS BAD". Hahahahaha. Lame, I know.

All this happened like in a few minutes lar. They also feel paiseh after they got scolding from the auntie, they should feel paiseh. Then all of them squated down. And there was one uncle who looked at me as if he wanted to fight :(




#66 I think I'll like this picture a lot if it isnt blur. Haha.

And Jay, please stop going to the backstage and change so often. Please. Because when you left the stage again, those people rushed to the front again. This time, the amount of people was uncountable. Even Cindy wanted to stand up because we really cannot see anything at all. See lar these people. The security guards also cannot control.

Even worst when Jay came back to the stage.




#67 I cannot see anything from my spot anymore. I cannot take it anymore and I ran towards the stage. Hahahahaha. Kidding. I went towards the fence before the stage. Jay appeared in a very cool jacket, I like it lor, playing pipa. He played Fa Ru Xue but he dint sing.




#68 And here came my goosebumps. Hehe.




#69 Right infront, I had another attempt of taking a picture 'with' Jay. Obviously, I failed again. I hate taking pictures with flash that will make me ugly. Grrr.




#70 Then another one without the flash this time. We look okay but Jay wasnt focused well. He is the little white human on the stage anyway. Cindy, I think you look good here :) I like the lighting as well.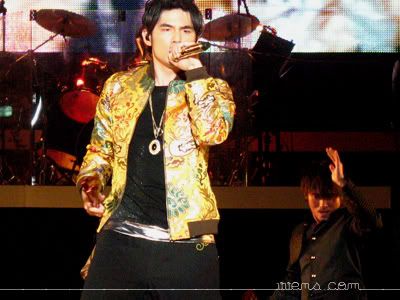 #71 Oh! He was singing Huo Yuan Jia, the song of the movie, Fearless.




#72 It was quite obvious because he was holding a fan. Hahaha. And I cant remember where he threw the fan to.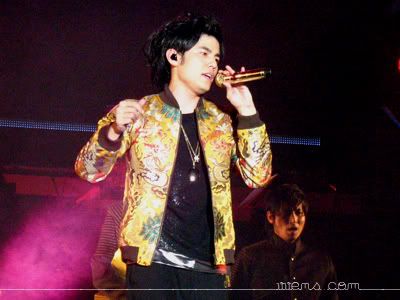 #73 He had a nice gold mic too.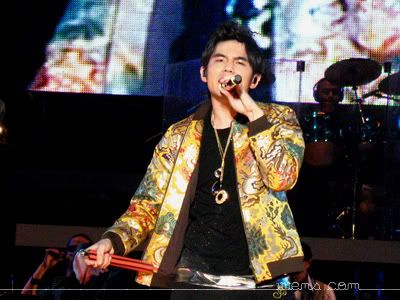 #74 And the last song of the night was Shuang Jie Gun :) I cant remember where he threw the prop to, too.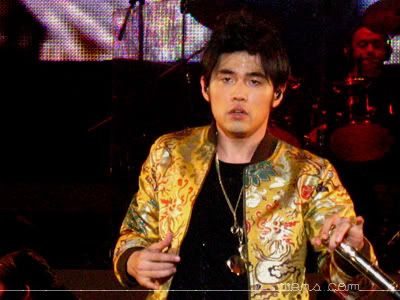 #75 I dont know. Dont ask me.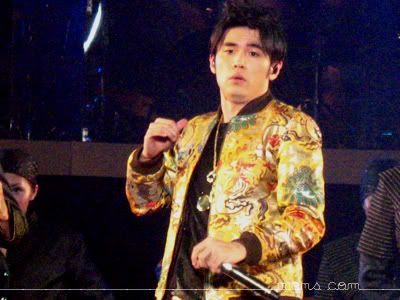 #76 I really dont know why. Hahahahahaha.



#77 And the last video clip before he left :( Why did you left so quickly? Ish.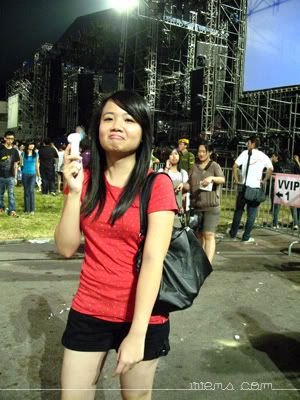 #78 We dint had enough of you lar, Jay. Sigh. Nevermind, we shall go to his future concerts again. Hehehahahahhehehaha.




#79 And a picture before we leave the stadium.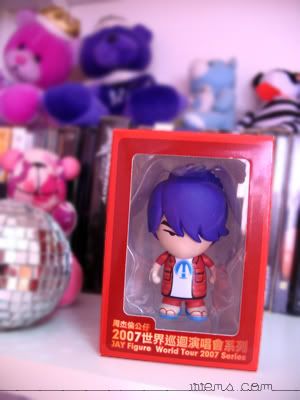 #80 Finally, the last picture. The limited Jay figure of the World Tour 2008. The Malaysia Jay doll. Beside this I also bought the landyard. I'm the landyard collecter :)

In short, I had a lot of fun, obviously. This is so because I've got good seats, really. And that Jay was so near to me although I had been nearer to him previously, I still felt that something was lacking during this concert of it. First of all, I dint like the name of the concert. Or was there a name? Hahaha. Why World Tour only one? Ew. Before this his concerts has good names like Fantasy, The One and Incomparable one leh. Why this time dont have a name? Well, if you cant think of one I can help out. Perhaps, "The Busy Concert" Hahahaha.

And also, I think there is a lack of his voice. It wasnt very smooth. Maybe he has sorethroat. Haha.

And I was expecting better guests. Not to say that NQMM isnt good enough but they were always with him in concerts. Enough already.

And I was also expecting remixed songs like he previously did to Di Tian and Ba Wo Hui Lai Le. It was damn good. Hahahaha.

And I was also also expecting him to sing Wo Bu Pei and An Hao.

And I was also also also expecting to fetch something he threw from the stage. Ahahahahaha.




And that's all for his World Tour 2008 at Malaysia :) WEEEEEEEEE!