Spreading Jay-ism part2
And continuing from the post yesterday :)




#30 He came out appearing in this very very handsome outfit. Haha. A very Chinese oriental feel. And he came out singing Qian Li Zhi Wai. I was expecting Fei Yu Qing to suddenly pop out in the stage. Hahahaha.




#31 I'm sorry Jay. I dont mean it. You look cute :)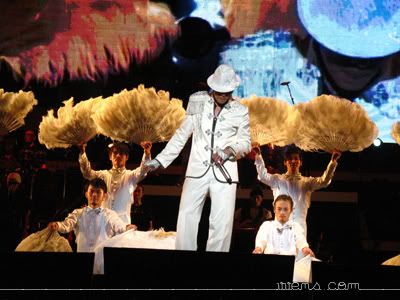 #32 Memang ada feel.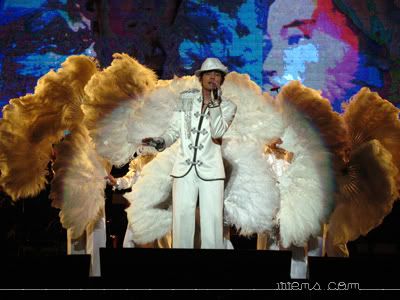 #33 Then he continued by singing Qing Hua Qi. Damn nice.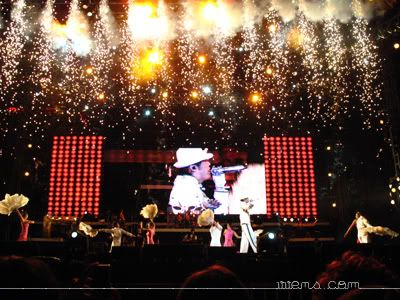 #34 Fireworks. Fireworks. And most of them frightened me, maybe because I was near to it. And the fireworks of that night costed about RM3.3 million.


#35 And that's my hand, snapping pictures of Jay.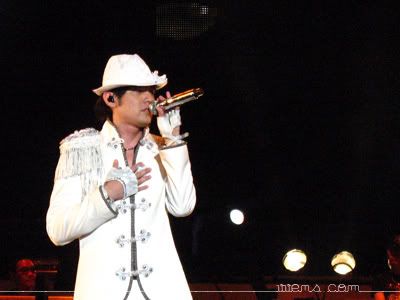 #36 One of my favourite picture.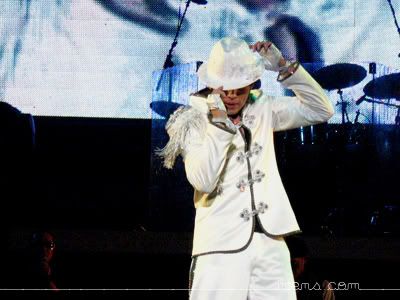 #37 Then he sang Ben Cao Gang Mu. He danced :)




#38 Together with Dan Tou from NQMM.




#39 This is a precious shot because he posed the same as the cover of his World Tour 2007 concert's DVD :) The "shhhhh" pose. I wished it was a close up though.



#40 Then he played with the "che ling". I'm not sure what is it called in English. I was paying attention to him and suddenly he threw the "stick" towards my direction. OMG. I stunned and was slow to react. Cindy was fast, she put down her camera and try to fetch BUT the thing was too light and landed on the lady sitting RIGHT IN FRONT OF ME. ARGH! Heartache. I dont think she wants it as bad as I do. Lucky lady. I wanna sit second row already next time :(

After that he went backstage to change, AGAIN!




#41 Then his special guests came on stage. It was NQMM. And this is Dan Tou :) He kept looking into my camera. Yay.




#42 This is Lara Veronim. Ther very very pretty mixed girl who has a very sharp and squuueeeeky voice, whatever you call it. But she's so sweet.




#43 They sang 3 songs of theirs. Xiang Nan Hai O, What Can I Do and Xiao Zhe Liu Lei.




#44 After that, they left and the stage was empty.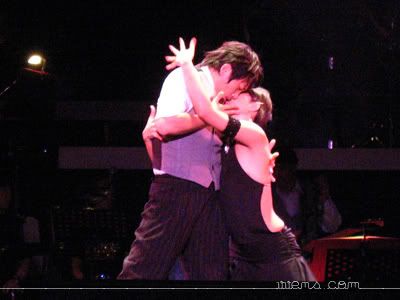 #45 And here came two dancers who were doing very intimate dances. The girl exposed her panty a lot until the old women and men infront of me shook their heads non stop. Haha. Cindy, "GET A ROOM!"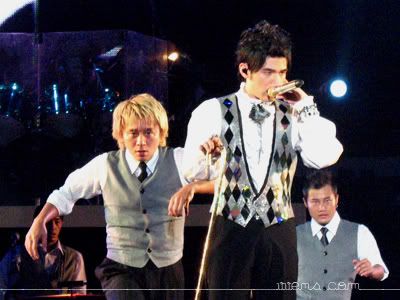 #46 Once they finished their dance, Jay appeared in a new outfit plus a tongkat. He was singing Ye De Di Qi Zhang. NICE :) And why is the dancer looking into my camera not Jay?




#47 Dan Tou rapped with him in the same song. And he looked into my camera again :) This is not taken from the giant screen ah.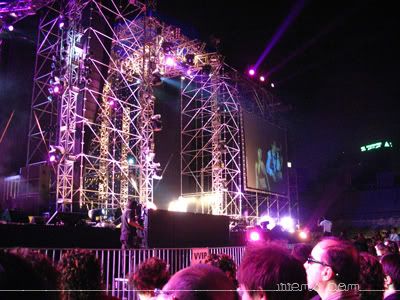 #48 Later, he went to the right side of the stage. Lucky he was there or not I'll die of anger BECAUSE GOT 2 SEXY BUT UGLY GIRLS KEPT TOUCHING HIM :( And the song he was singing is totally not matching with that situation. He was singing Ye Qu. I thought it was supposed to be a sad one :( But I like this picture though. Nice lighting effects.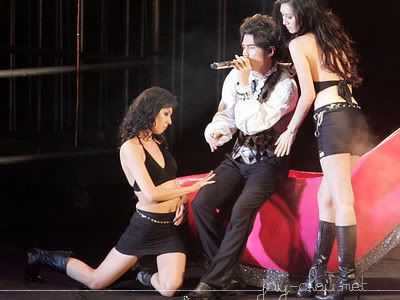 #49 And this is what I found from the forum. YOU SEE THEY GO RABA RABA HIM!!!!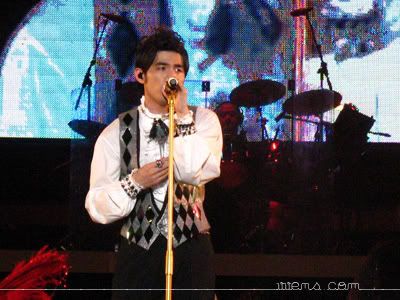 #50 Okie. He came back to me :) And was singing Mi Tie Xiang. In the Tokyo's concert, his grandma went on stage to dance while he was singing this. Why dint she show up here? :(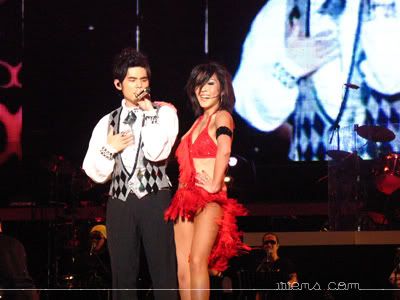 #51 Instead of his grandma, he had 4 hot girls dancing around him. If I were that girl, I can smile wider than her :D Hahahaha.

Then he went backstage AGAIN.




#52 And came out with a guitar, the unplugged is here! Anyway, this is not Jay. Its Zhang Jie from NQMM who I inisist, insist that Yu Yang looks like him. Really!




#53 Jay and the guitar. They were talking and talking. And Jay asked Zhang Jie to sing a re-composed song of his, Ren Zhe. Zhang Jie, "There is a song that I think you dint transmit it well....." Jay, "Beware. Later they'll throw the neon light sticks to you!" Hahahahaha. The re-composed was an OK only. Haha.




#54 Then then then then Jay sang a song by Theresa Teng, Ni Zhe Me Shuo. It made me drunk AGAIN. He said that it was a spontaneous song. Ah!



#55 A video of him singing it. Sorry for my screamings. Hahaha.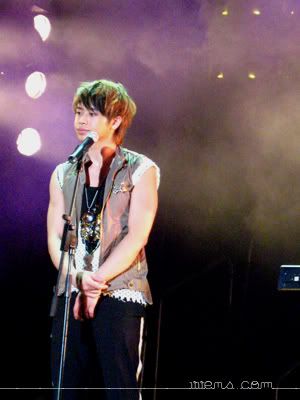 #56 At the same time, everyone on stage was sitting down except for this little poor Dan Tou. Hehe. I thought this is a nice shot though :)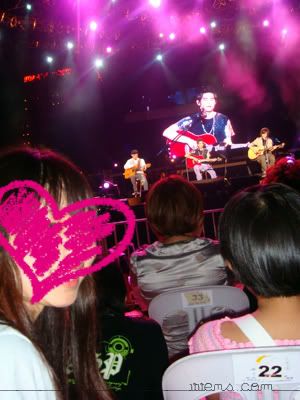 #57 And I tried taking picture 'with' Jay, but it was an ugly attempt :( He was singing his cute version of Shuang Jie Gun anyway.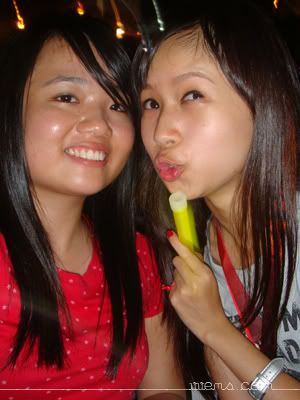 #58 My BFF, Cindy and I with the neon stick I bought few days before the concert ;p




#59 And this is how close I was to the stage and Jay. And that's the little girl and the lady, the mum who got the stick of the che ling :(




#60 The next song he sang was Cai Hong.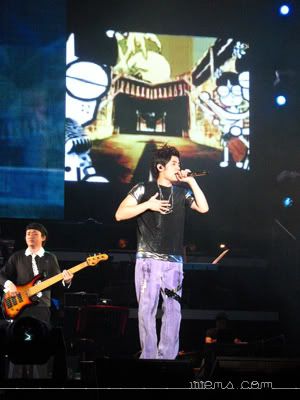 #61 And Kai Bu Liao Kou. Totally drunk.




#62 Nice kan? I dont know why the lightings' effect turned out to be so cool also.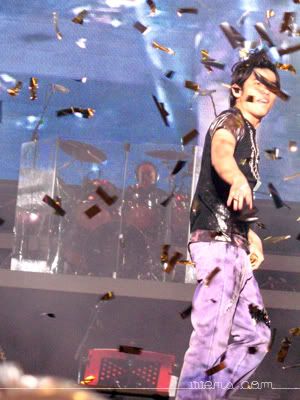 #63 Then right, before this picture was taken, Jay asked everyone to stand up properly so that he can sing his next song, Yang Guang Zai Nan. Everyone was so high, jumping here and there and I cannot take pictures of him already. I short mar, everyone from the back went to the front and blocked my view. Hahaha. Right after the song, there was confetti like in the picture, and he left the stage lor :(



Later, something happened to the 'drunk' me. Hahaha. And I will tell you the stupid story in the next post lar :) Wait for me to come back tomorrow.