Because Jay Chou came to town...
Oh yeah, I spent my whole yesterday to see Jay Chou. It was tiring but fun. Plus a little sad because my camera cannot handle Jay Chou. Once he appeared, it died. I wonder what happened to it because I still can take a lot of pictures before he appear on stage. I charged it full too. Jay is too cool for my camera. Or maybe too hot. Okay, its now confusing. Luckily Cindy brought her camera along :D

The first half day was spent in the indoor of 1Utama because it rained terribly. Even that I've got an umbrella with me, its useless. The rain was like un-describe-able. And that kept us indoor till I missed the time queuing up outside ;p And we're left quite behind away from the stage and the crowd. And then, we decided to stay away from the crowd by standing up on a level higher to view things more clear; on a pole's platform.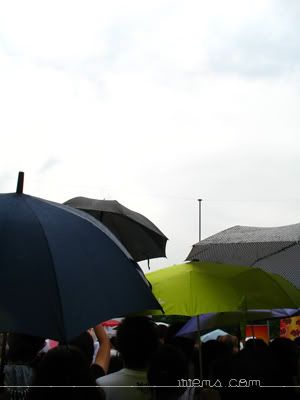 #01 People and their umbrellas.




#02 And this was how far we were left behind.




#03 The stage with 3 cool guys, a stationery ball and a 3D basketball net.

Besides Jay Chou, Baron Chen and the director of the movie, Kevin Chu, there were a few local celebrities performing on stage. Like, Karen Kong, Liang and PointBlanc. And also a special appearance by a special guest.




#04 Mr.
Kenny Sia
, the kuching blogger, who was showing off his muscle. I'm jealous of him because he stayed backstage with Jay Chou :(




#05 We waited from the day till the night and Jay Chou wasnt there yet. Argh!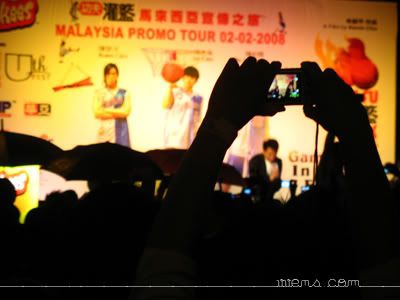 #06 I snapped people snapping the host on the stage, Royce from MyFm.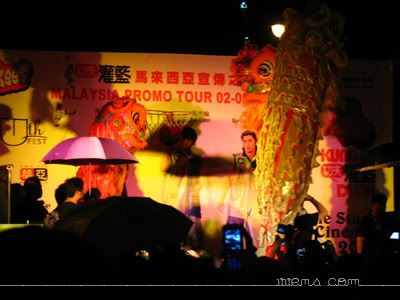 #07 Then finally, an hour behind the scheduled time, they appeared!!!! Jay Chou is under the purple umbrella!




#08 Jay Chou! Jay Chou! Let me see, this is my 5th or 6th time seeing him in person. Hahaha. I like this tee shirt. Will buy it if I see it anywhere in the mall. Haha. And I suggest that the stupid fella right infront of the stage should keep away his/her annoying umbrella. People from the back used half of their energy to shout at that person. It was so annoying. He blocked Jay Chou right at the angle we stood. Stupid fella. The only one using the umbrella in the crowd.




#09 This is the only picture of Jay Chou I took before he and I left 1Utama.

Then, we headed to Ruums to catch Jay Chou again. Thank you
Anglia
for the invitation and the free tickets to watch the movie in GSC cinemas:)When we reached there, it was already half packed. Man, why do I see kids in there when they said people under 18 is not allowed. Again, we had to wait for Jay Chou and his friends. While waiting, there few mini games going around. I wanted to answer all the question but it seems like short people who stood in the crowd had no chance of that. There were perfomances too.




#10 The dances by dont-know-who. It was great though. I told myself that I cannot take more than 3 pictures before Jay appears because I have to save some for him. I took this and another one below so, I thought my camera is back to normal, not!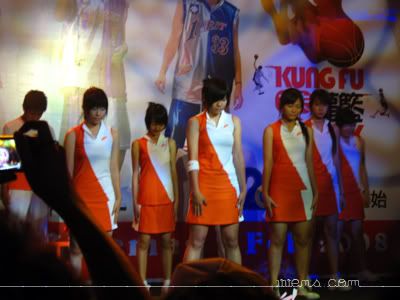 #11 The hardsell cheerleaders which has lame cheerlines.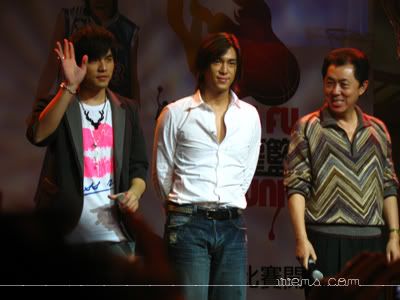 #12 Then Jay appeared after all those unwanted things happening on stage. And my camera died. What a camera :( And the rest of the pictures, after picture #13 are taken with Cindy's camera.




#13 Why dint you wave to me?




#14 Jay Chou, Baron Chen and Kevin Chu. Why arent Charlene and Bo-Lin here too.




#15 So many pictures of them were taken and so many funny expressions of them were caught in camera too.




#16 Caught them pout as well =3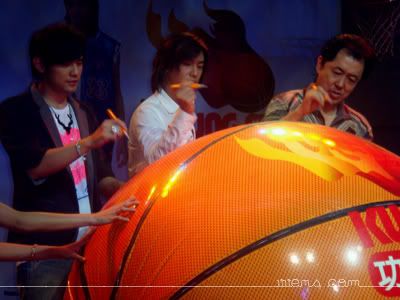 #17 Then, there was this huge basketball thrown from above to the stage for them to leave their signature.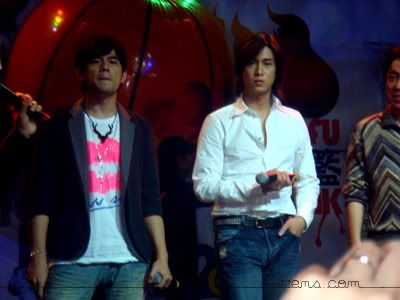 #18 Caught Jay Chou having a frust expression ;p




#19 Wave to me! Wave to me!




#20 The only picture Jay Chou looked into the camera. Hi Jay Chou!




#21 Are you pointing at me?!?!?! *faints*




#22 And he looked like he was saying "YAY!" here. Haha.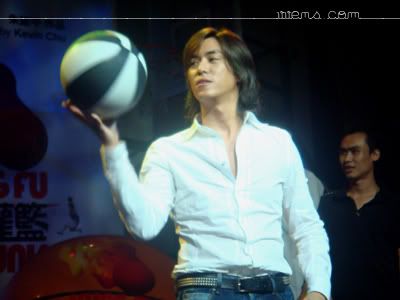 #23 Later, the actors showed off their basketball skills. Baron and the ball isnt as attractive as...




#24 Jay Chou and his very very cute basketball skill.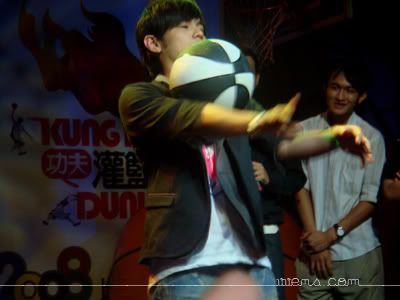 #25 Making the ball roll on his arms to his shoulder and to another arm.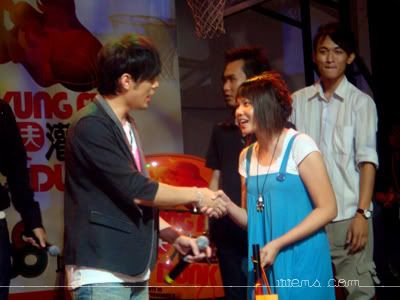 #26 And there were a few lucky people that gets to go on the stage to snap a picture with Jay. I'm jealous again :(




#27 When can I have a chance to take a picture with him?




#28 I cant remember if they were posing or what. Haha.




#29 And this was how close we were to the stage yet, unseen to the host to be picked.




#30 Suddenly my camera works again. But can only capture once. And this is what I've got. I think its quite cool ;p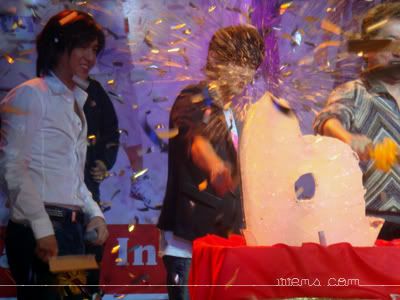 #31 The very cool shot of the ice-breaking session. Wishes that the new movie gets a very good result in Malaysia. Oh people, go watch Kung Fu Dunk in cinemas okay!




#32 His expression is so cute here! So happy and so sweeeeeeeeeet :)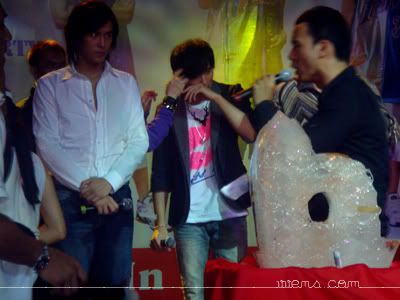 #33 They spent a lot in this movie. You see, break the ice also need hair stylist!




#34 CUUUTE!




#35 You see, because of this movie they travelled everywhere and at everywhere they spent only awhile. It's time to say bye bye. Sigh.


Bye bye Jay! See you soon :)