And it was the best concert!
Yes. It really was the best concert I ever attended last night. It was the third time (because I missed Fantasy's concert) for me attending Jay Chou's concert but it was the best last night because I have the best seat ever :) Muahahahaha. Thank you to my mum's bestie for getting me the VVIP tickets.

Although it was stated that the concert will start at 8pm, but I decided to go there earlier because I am kiasu. I left my house at 5.30pm and reach there within 20 minutes. And I cannot imagine what I saw. Everyone else was more kiasu than me! The place was already crowded with people as if the concert has started. I was all alone then. I kiasu cause I scared I cannot get to buy his official merchandise sold there. Indeed, the line was extremely looooooooooooooong. I took about 40 minutes to reach at the counter. Thank you JuKoon and Emily for queuing with me. Thank you JuKoon for the cash; I dint bring enough cash to buy the merchandise lar. Haha.

Later I met up with Natalie. Thank you for your steamboat. If I dint eat the food, I guess I'll have no energy to scream last night. Hahaha. Thank you Cindy for letting me hurting your ear drums. Same to Luiz, thank you for dropping me home. Thank you Carmen for your mini fan that kept me cool. Thank you Apple for the poster. Thank you Natalie again, for helping me with the seludup-thingy ;p Thank you my camera for not dying like it used to. And thank you Jay Chou for standing right in front of me most of the time :D

Enough of the thank you's, I'll now start with the picture spamming. Prepare some tissues in case you drool over Jay. Unlike the previous concerts, I can only take pictures of the screens. This time I can take the real him. Hahahaha. And because I took over 350 pictures, I picked only some to share (which I dont think I can fit them all in a post).

Enjoy la. Drool la :)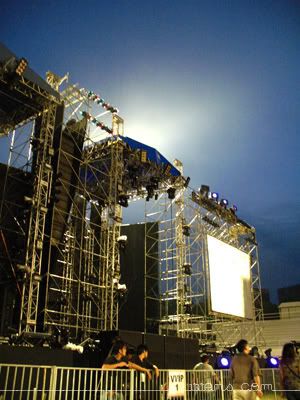 #01 The right side of the stage. I like the back lighting thingy. Haha.




#02 And the concert started around 8.30pm. Wow it was better this time. Last time it was one hour delayed.




#03 JAY CHOU!!! :D The first song he sang was Huang Jing Jia the original sound track for Curse of the Golden Flower movie.




#04 Jay Chou and 2 members of Nan Quan Mama.



#05 A short clip I took of Jay singing the last few sentence of the song. Then the next song he sang was Wu Shuang.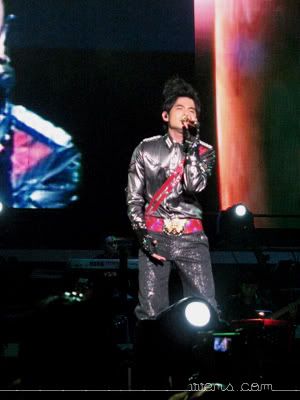 #06 Then he changed his outfit. And I wonder why did his hairstylist put the feather cane behind him. Not nice :(




#07 He was totally into singing the song. Let me recall, he was singing Zhui Hou De Zhan Yi, if I'm not mistaken.




#08 He is not ugly ;p And I think he was singing Bu Neng Shuo De Mi Mi, the song from his movie, Secret.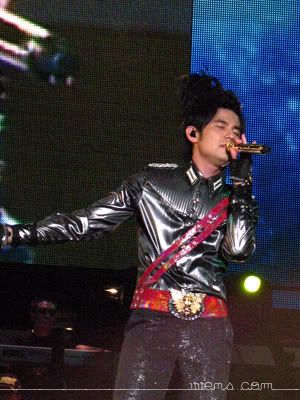 #09 But I seriously dint like the funny hairstyle Ah Du, the hairstyler gave him.




#10 Then, he changed his outfit, his hairstyle and went to the left side of the stage where MyJaysian fan club members are there. I could not take a single picture of him there because it was too far. He sang love songs like Tui Hou. It made me drunk. Haha.




#11 A picture I took from Wai Fong :) I hope you dont mind because I dint manage to take Jay's picture when he went to the side of the stage.




#12 Then we went backstage, changed and headed to the left side of the stage where Jay2u fan club members are over there. Before he appeared, there were 4 guys dressed in those Scott dressing and danced. The 3rd guy did a mistake and tripped on the stage. Oopsi. And the last guy showed off his undies *_*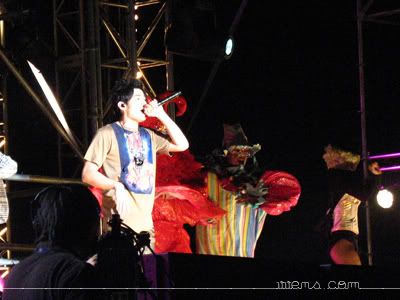 #13 Then Jay appeared singing Mai Ya Tang :) I dint list down the song he sang therefore if I remembered wrongly, please tell me. Hehe.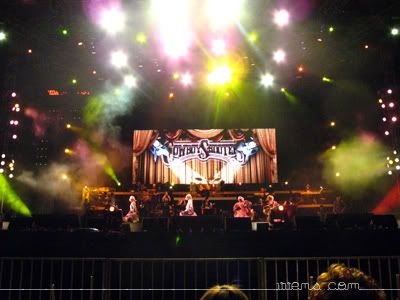 #14 And so, the next song was Niu Zai Hen Mang. The Cowboy song and he came back to me ;p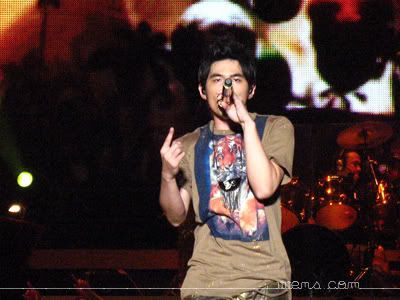 #15 I like it when he comb up his fringe. He looks good like this.




#16 When he was singing the chorus, "Bu yong mafan le bu yong mafan le..." I actually followed his dance. The silly dance with my neon stick. And I think he saw me doing that. Hahahaha.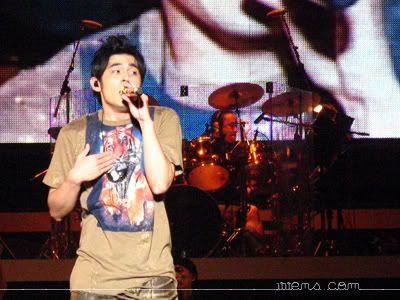 #17 Caught him with a lot of facial expressions. This is a cheeky one.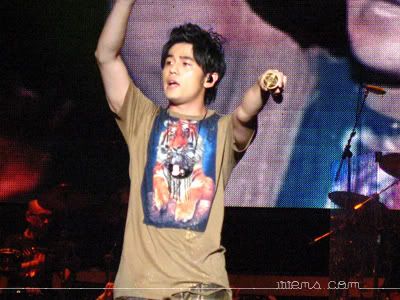 #18 Him asking us to sing along with him.




#19 He went back in and appeared handsomely with a transparent grand piano :D He flirted with the audiences anyway. Hahaha. And sang Hei Se You Mou and Ting Ma Ma De Hua. When he was singing Ting Ma Ma De Hua, they showed recorded video clips of Chow YunFatt and Jackie Cheung. It was hilarious. Haha.


#20 I remembered him asking us about the weather in Malaysia.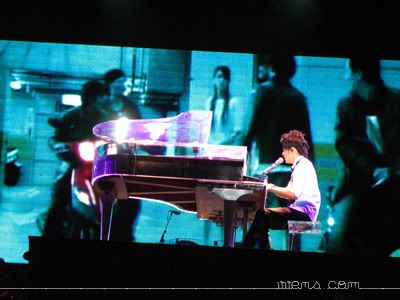 #21 Then he continued with the song, Zhui Chang De Dian Ying :D I like this picture.




#22 Then he talked again. He said he is going to play the music piece from his movie, Secret. But before that, he said, "Its okay for me to play wrong because I wrote the song" Hahaha :D



#23 Indeed, he did a lot of mistake playing the song. Boo you Jay! Hahaha.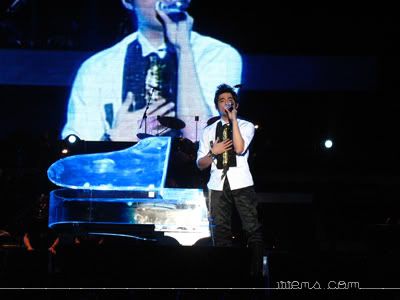 #24 Then then then he continued with the song, An Jing.




#25 It was soooooooooooo good although he screwed the lyrics a little bit.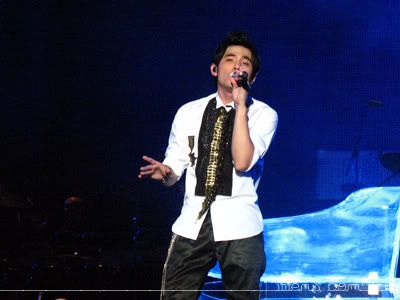 #26 I'm getting drunk listening to him sing. Hahaha. Who said you need to drink to get drunk?




#27 Later, Yu Hao from NQMM appeared with a very very funny introduction video. Then, came out with a piano battle with Jay. Then they sang together, it was some fast and rappy song. I cant remember. Then, they danced together!!! :D



#28 A short video clip I uploaded in photobucket because I cant upload in YouTube, of Jay and Yu Hao dancing. Jay can dance!!




And I think that is all for the moment. Will update more tomorrow after my first mid-term paper.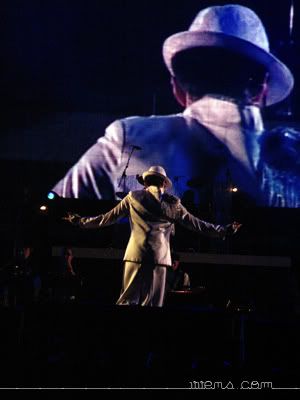 #29 We'll be back! Stay tuned. Hehehehehehehehe.