My Sunday Morning
This morning I went all the way to Carmen's house at Bukit Jalil from Ampang just to take Kungfu shots for
this
. It might sound silly but it gave us another chance to play a fool with the camera. Hahaha. But we had only a few hours to play because I need to rush back to Ampang Grocer to give out Sunkist orange juice. Muahahaha.




#01 We started with Cindy. And guess what? She brought her dog, Panda along. The dog which hated me forever. Vice versa. Muahahahaha.




#02 And they had a mother and dog-ther jumping shot which scared Panda a lot. Too bad doggie. Cindy was marvelous okay, she can jump up very very high. The best among the three.

Then we had Carmen to do her Kungfu pose. She had a little trouble doing it, maybe she wasnt 100% awake.




#03 So, we had Cindy to help her out and they ended up wasting my camera's battery.




#04 Something random I took while they were experimenting the Kungfu poses. Meet Thin-teen :)




#05 After awhile, she got it! But Thin-teen damn kacau okay! Shoo!




#06 Wow, this look very Kungfu to me minus her funny face which later led into laughters.

Okok, next it was my turn to show off my Kungfu poses. I did research last night okie but I failed almost all nice poses and I ended up with a silly one.




#07 What a failure attempt. Oops. And Thin-teen very very annoying lor.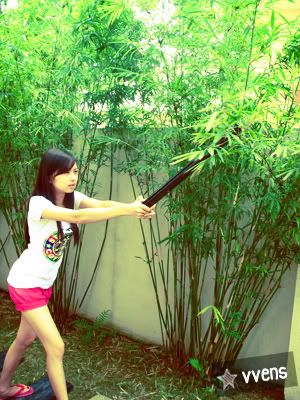 #08 Second attempt. Failed. Ugly.




#09 I ended up with this picture because I cannot afford to jump anymore. My muscles were actually aching. Well, not Kungfu-ish though :(




#10 Later, we continued playing bubbles. And look at my fake Levi's watch I bought in Petaling Street for only Rm15 ;p




#11 And this is what I did :) Anyway, can someone teach me how to do animation in Adobe Photoshop. Man, I dont know how one lor...




#12 A picure taken with Cindy's smile shutter sony camera. Very hard only can sense my smile lor. ISH!

Then then then, we had a very delicious and cute brunch at Carmen's place before we leave to work.




#13 The brunch prepared by Carmen's little princessy sister, Carin. Anyway, I dont know if I've written my "oishii" correctly or not. I kinda forgotten the language I learnt.




#14 And this is why I called it cute. The sushi came in heart, star, triangel shapes and many more. I feel like eating more sushi now!



And this was how I spent my Sunday morning today :) What about you?
Labels: Photos