The Bare Foots Posers
Was at Cindy's crib an we started camwhoring before leaving to college. That's what girls do best right? Hahaha.



#01 When Cindy was in the shower... And this picture proved that I have dimples! Ok, dimple.



#02 Then, she joined us! The fake smiles :D



#03 We had fun with the self-timer and the mini tripod; the posers!



#04 It was time for the outdoor shoot! Yay! I call this the kena-bang jump. And I had fun editing the pictures :)



#05 The Carefree jump. Get it?



#06 The desaturated windmill toy. Whatever you call it ;p



#07 I removed the colour from them, and they looked like statues. Hahaha.



#08 I returned the classic polariod camera to my uncle and got this in return. I havent buy the film yet though. Expensive leh.



#09 Cindy has bamboo sticks in her house for her dog who was named, Panda. I very mean right, made myself pop up in this picture. Muahahahaha.



#10 I love the polka dot umbrella Carmen has. But I'll never want to use it. Too cute.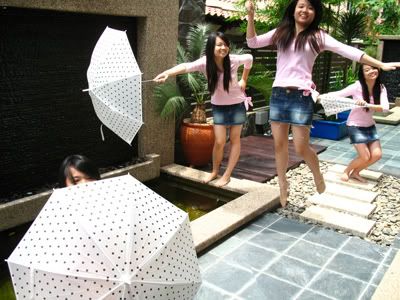 #11 Photo merge number1 of Cindy with the cute cute umbrella.



#12 Photo merge number2 of Carmen. I took so long to do this man.



#13 And ME! Hahahahaha. Alot of me me me and me! :)
Labels: Photos