Our First Reunion
After the last day of SPM examinations in SSG, or maybe some other days that I'm not around, I think yesterday was the day when we finally get to gather in such a big group. Although its only 1/3 plus of us. The reunion dinner was located at Izzi's, Jalan Sultan Ismail. It was supposed to start at 730pm but it seems that most of the people attended are practicing the "Malaysian's Timing". You guys were late! ;p I was the second! Hahaha. Scott, was first. I lost! :(

The place booked was great. Thanks
Su Ann
for that. Most of the people were like, "Wow! The whole floor is ours?" Hahaha. The guys were so happy ok, because they have their very own smoking area. Haha. I was damn exciting about this reunion for some reason and was rather disappointed last night because there were quite a few number of people who cheated me! I'm mad... Not okay until like few minutes later. Hahaha.

We ate, we talked and as usual, we snapped!




#01 The first picture I took last night with Kai Yee and Wan Wei. I felt quite stupid when people around me were wearing pretty clothes, and I cincai-ed.




#02 I din't started taking pictures around until he was. Darren my class monitor during Primary5. Since then, we were been in the same class again. Haha. And that was Lie Peh behind us.




#03 My once-best-buddy, Poh Juan.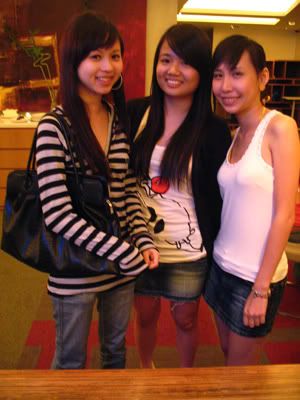 #04 My usual buddy and my Primary6 buddy,
Peggy Chow
who dint really change! Why am I looking so awkward ah?




#05 People of my table.




#06 The people next table, next class. They are Yoon Hui, Yann Ee, Denise and Sara Chua (Left to right, top to bottom).




#07 The mean guys who din't want to attend in the begining. They are Chee Hou, Justin, Scott, Adrian, Wan Keen, Chuan Yee and Daniel Chua (Left to right, top to bottom).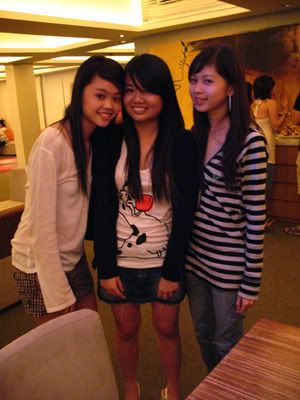 #08 My "long-time-no-see" friends. Hahahaha. Carmen and Cindy.




#09 Our Bruce Lee look alike, Aaron Chung and Carmen.




#10 The not-so-good-boys, Ian and Ju Koon.




#11 The very big and small buddies standing together. Hahahaha.




#12 With the girl I knew since primary, Christine and the girl I see in college, Sieu Theng.




#13 The very sweet couple, Victor and Carmen.




#14 Both of them have big tummies. Hahahaha.




#15 The guy who is younger than me by ony one day, Chuan Yee and my best buddy, Piao Ching.




#16 My BFF 01, Chiam Carmen.




#17 And BFF 02, Cindy Liew. Did I mention that we share the same birthday?




#18 Yi Kye, the friend who always, ALWAYS bully me :(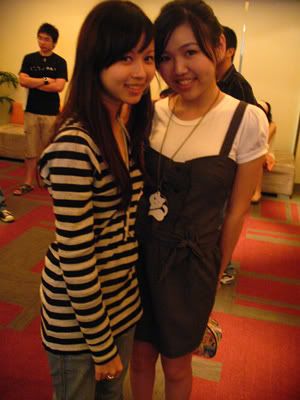 #19 The same-sized girls.




#20 Together with Victor and Piao Ching.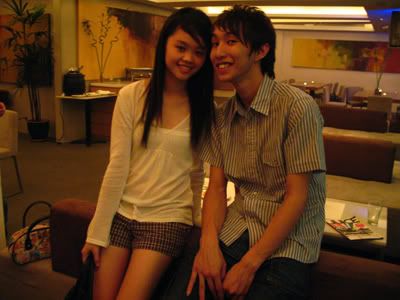 #21 I dint want to take picture with him, and so Carmen took place ;p ;p ;p




#22 And my very first friend in Primary1 plus very first car pool friend to college plus the nearest friend at my area, Alvin who dint want to take a single picture wih me!!!!!! Ooh, plus Lie Peh beside.




#23 Ee Yang, the curly hair guy who we refered as the "extra guy" last night. Just joking ok? :)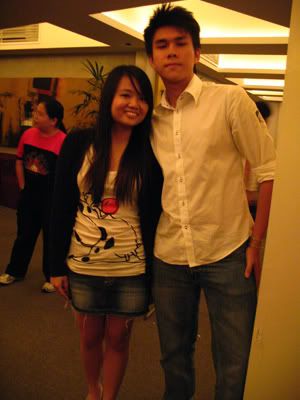 #24 Another couple, Cindy and Luiz.




#25 Another another couple, Ian and Emily with John and Ju Koon.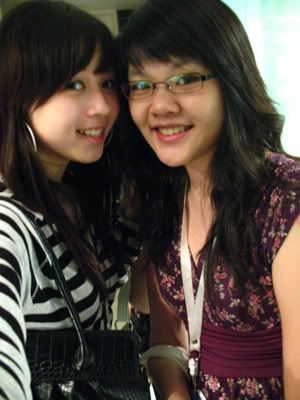 #26 First time camwhoring with Kai Yee, the girl who sat beside me when she entered SSG during Form 1.




#27 The three of us who worked (me, a little) for the reunion. Me, Su Ann and Ian. See, I told you I dont want to take picture with him. I'm not standing beside him. Hahahaha.




#28 Then, we excluded him from the picture. Too bad ;p




#29 Finally, the group picture of all who attended. :) I was quite unready for the picture leh.




#30 And a picture I took in the toilet with the HUGE mirror. Hahahaha.


That's all from me. You guys who wants to view more of the pictures can click here and please send me a copy of all from your cameras too. Thanks and SSG still rocks!!!!! :)