8 Different Hairstyles I Had
This is supposed to be a tag but I'm not tagged. I just feel like doing it. :) Just post any pictures of your 8 different hairstyles you had.
#01 The short and aunty-looking hair.




I had this haircut during 2004, when I was 16. It was my second time getting a hair cropped so much. The first, was a disaster. I dint even want to take pictures during that time. When I was 16, after my seond rebonding, I thought of giving it another try since my hair is straighter than before. And the outcome was still as shitty as before. I could not find any nice angle to snap pictures. There are even guys who told me I look so aunty. Grrr.!


#2 The only-one-part-highlighted hair




After my hair grew a little in year 2005, I rebonded my hair again since it was so ugly. I cropped my fringe. And had it moved to the right side parting when it grew longer during the holidays. Ahh! As usual, kids like me likes colouring hair during holidays. And so, I dyed only one part of my hair like shown in the picture above. I thought it was cool at first. I wanted it in blonde somemore. But it wasnt cool anymore until school reopened. AHH! I was caught in the very first assembly of the year. That was embrassing leh. On the same day after I was dismissed, I went to Waston. I grabbed a dye hair kit without realising I've actually gotten the wrong colour. Omg. My fringe, or to say, my hair went purple! That was horrible. Lucky my grandma had some dark brown colour with her. ;p

#03 The Lousy Curls




This was my first hair perming after all the straightenings. I made it in the same year, 2005 when I was in form5. If you did not realise, my natural hair has big waves. I hated it so much when I was younger and always wanted to get it back but I cant. So, I thought a perming might help. And you can see, it doesnt. Hahaha. My hair is not long enough for such a perm.

#04 The better curls.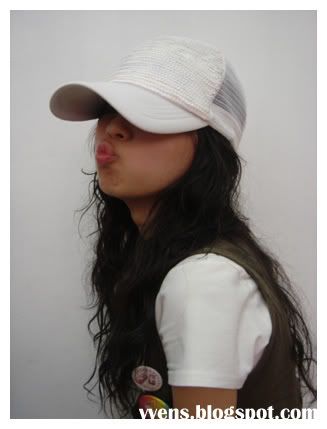 I had a better curl on the last day of year 2005 itself. It was so on the trend at that time. At the same time, I highlighted my hair red. Like, bright maroon red. I was terrified by myself. I could not see my brows myself and I could not find any clear pictures for it. But you can try looking a some here. So, I picked a picture I took in the middle of year 2006 after I dyed my hair black. Oh! My natural hair wasnt black either. Its some dark brown. I have always been dreaming to have a black silky long hair. :)

#05 The so-dry-and-ugly hair.




This is how my hair looks when I dont apply mousse on my hair to create curls. Its so dry and frizzy and ugly. I wanted my natural wavy hair but I could not. At that stage, I have been always tying up my hair into a bun so that it looks healthier by bluffing, or to say hiding the hair.

#05 The black and silky hair. :)




I again, rebonded my hair early 2007. This time I was clever enough to tell the hair dresser to put in a shorter duration so that it looks more natural. Something closer to my wave. And I dyed it black again. Hehehe.

#07 The oh-so-long hair.


I did nothing to my hair until it grew so long! Hahahaha. (I wish!) That's my friend, Cindy's hair.

#08 The act cute hair.




And I chopped my fringe off once again. I cut it because I've been seeing girls on street and people on tv having that fringe. Somehow, I was effected by them and I went cropping it too. I'm still having the bangs now (sometimes). I'll sweep it to the side when I find them irritating. And I'm not going to maintain the bangs now, in a short period. :)
Labels: Label X