Whatever la. Anything la.
One day, vvens went to a hawker stall. She was so hungry and almost going to faint la. And that lead her to her emo-ness. She apa mood pun tak ada. And then, she throw herself on the red big plastic chair available there. Then the waiter came to her. He is an old uncle with a toothpick in between his lips.
"Drink what ah, xiao jie?" he said.
She was so emo and she said,"Whatever la. Anything la.!!!" Then the uncle went off. And came back with these......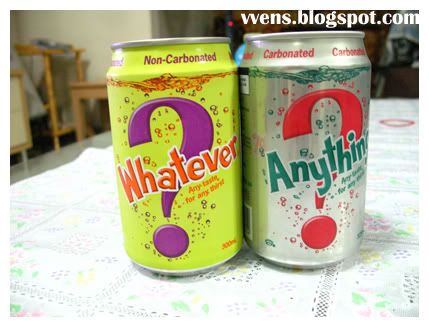 And vvens faints immediately.! Hahahaha.
Okay. It was lame, I know. Hahaha. If only I could show you the commercial for these drinks. They are equally lame. These set of drinks are currently new in Singapore market. I was totally speechless when I saw them. Haha. I bought them before I came back to KL. They are not cheap okay. Its SD1.50 for one which is approximately RM3 for one. I think I can get any 2 soft drinks here and get some small changes back. ;p




To me, the drinks are quite similar to Kickapoo, the joy juice. Somehow sweeter. Not too bad afterall. But it was the name, and the commercials of the product that attracted me. Their print ad available in bus stops are so lame yet cool! :)

Even my brother and cousins were influenced by the tvc. They actually went to the restaurant and asked for the drink by saying, "Whatever!" ;p