That day, Yesterday and Today...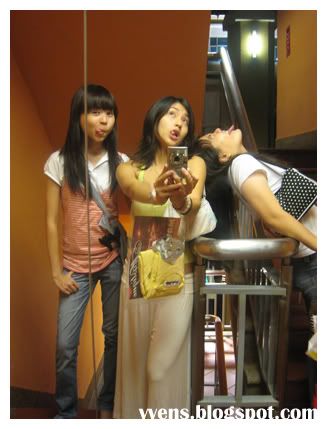 Last Thursday where I went to movie sponsored by Nuffnang with Ginny and Hui Yat. These pictures are taken with Ginny's Canon Ixus when mine died on me. We had our dinner at Ah Tuan Ee's before the movie. :)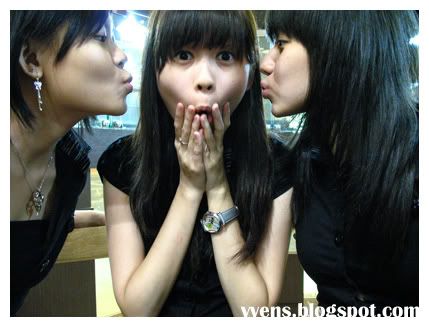 Yesterday, we camwhore at our working place when I received my new memory card. From left to right, Joan, the girl who is going to marry. And she's only 18 this year. Celine, the girl who makes me feel ashamed singing infront of her. Her singing rocks! Me! And my closest colleague, Joyee who has a very big pair of eyes but does not make use of it. ;p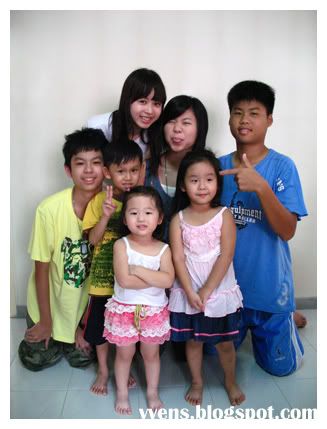 Today, when we reached Singapore, the first thing we did was to take a picture of all of us (the cousins). From left to right for the first picture, (top) Me-19, Elaine-19 and Sean-15. (bottom) John-15, Ivan-6, Berrie-3 and Tammie-5. Whether you believe it or not, this is the first time the 7 of us could gather together and take pictures together. I wonder when can we take like, the whole family. It will be kinda hard I think because we're all apart in KL and Singapore.

And I did shopping today too. I went to the new shopping mall, Ang Mo Kio Hub. Suprisingly, the stuffs there are good. I bought quite alot of things because they were on sales okay! Which girl can resist from big sales one you tell me la!

These are what I bought. A black and white stripes V neck top which I have been hunting for. It costed me SD20. A pair black pumps which is alo SD20 to replace my old one. The old one damn kesian already. Hahahaha. A hyper sweet and cute PINK car sign written "Babe on board!" Hahaha. I've not seen in anywhere in KL leh. And instead of orange and yellow in colour, its PINK! :D Its only SD9. And two very cute notebook with doodlings on the cover. Very my-feel. Hahaha. There are only SD2 each. ANd lastly, a big and funny eraser which looks like Levi's tha cost me SD3. I dont know why I bought it but.. its cute lar. ISH!


Next stop, I mau pergi Bugis Village, Sentosa and Vivo City, but I left only SD30 (because I havent receive my salary, the previous savings are all spent on my Canon) and 3 days. :(