Being Mean
Do you know what happens when you put something into some places where it does not belong to? Here's an example of it.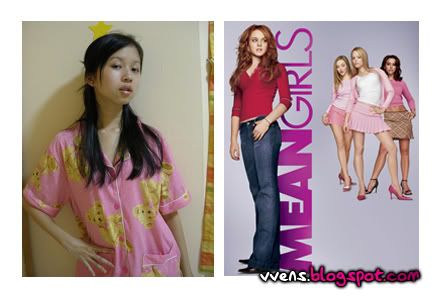 Hahaha. Yes. I added my face into one theirs. Its not that I have nothing better to do or what but this is one of my assignment. We were assigned to insert our faces into the celebrities on any movie posters. I choose the Mean Girls! And I think its actually quite interesting and challenging. I've took almost a week (like 1 hour per day) to actually complete my work. It seems easy but its definitely not as easy as you think!


Initially, I wanted to replace my face on Lindsay Lohan's but it was quite tough. I cannot do the starring part she did. She's waaaaaaaaaay too pretty. So instead of putting my face in hers, I choose another girl among the 3 others. Among the dumb blonde, mean girl and the kaypo girl. And here is my outcome.........


Okay, I'm the mean one. Hahaha. Perhaps you cant see it very clearly in the picture above, click here for the original size poster! ;p I actaully think it was quite funny when I first completed the work, but I'm now used to it. Haha. Now I know how I look when I'm a blonde.


My mum said, "That's you? Not nice. Leg too thick for you". And my lecturere actaully said, "Wow. You girls have done better than the previous students", which made me SO HAPPY! :D
Well, what do you all think about it?