The 8th Night
The 8
th
night of Lunar New Year, is the night where
Hokkiens
all over the country do their praying stuff. To be more exact, they pray to
Tian
Goong
once the clock strikes 12am. Although I'm not a
Hokkien
(my mum and her family are) , I never fail to pray every year, even if I'm having my mid term examination this morning.
Hehe
.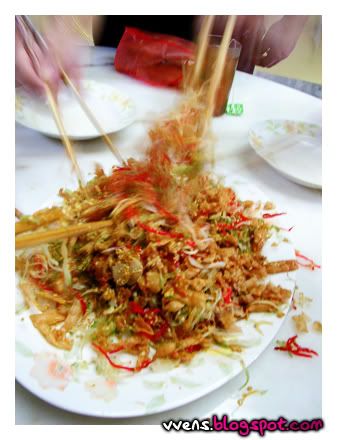 We had Lou Sang while waiting for time to pass. After that, we had movies.. Not forgetting my revision notes too. Until it was 11 plus, we started to prepare everything needed for the event. Most of them are food for praying.


Woops! The bird nest is not for praying. It's mine. Hehehe. We had so many things to do that night. Everyone was so busy and I was also busy, taking pictures. Of course, I did help them out after taking these pictures. Hehe.

The time was just right when we finished the work. Once it strikes 12am, everyone in the house rushed to the toilet and had our hands washed. We then rushed to the praying table again, grabbed our joss stick, lit them up and started praying. Heehe. I did not forget to take even more pictures...

Okay. My grandma was mad at me when she knew I took this picture of her. She's a camera shy! :p


And the last thing we did last night was to BURN EVERYTHING! Hahaha. And and (I'm in a hurry) then, we went home and planned to sleep......But I could not. I was so nervous about the papers today. I'm so scared because the revision I did, I knew its not enough. I thouht I'll be death but lucky, the papers today were not as tough as I thought. Hehe. I hope the same thing happens tomorrow. :)
All the best to people who has exam (like me)!!