My 14 hours in a Supermarket
Last Thursday, a friend of mine brought me to a agency for job interviewing. In less than 24 hours, they gave me a job!! A promoter rank for Pepsi and Mirinda range of products but mainly Pepsi Max. I guess the job was a replacement job because it was given to me at the very last minute.

Although my weekend is packed already but I still nodded my head for it. I'm afraid if I decline this job right now, they would not look for me anymore. Hmmn. No choice but to say yes and bye-byes to my dear friends' birthday parties. BUT lucky I told him in advance that I could not make it on Saturday night, or not I'm going to miss ALL the weekend fun.

Yet, I'm lucky enough to have a job at the Giant supermarket right opposite my condominium. It is just located 5 minutes walking journey away from my place. I cant find any other reasons to reject the job. Rm10 per hour lor! 7 hours per day only mar, wont kill me - I thought.

The first few hours was an OKAY for me. Instead, I found it quite interesting wokring in a place, a supermarket where I used to shop almost once every week. I like the time-punch card thingy.! Hahaha. I cannot cheat the working time now! ;p Hahahaha.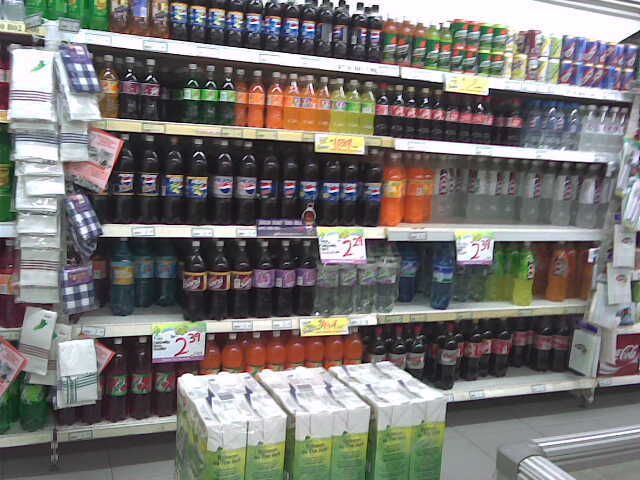 And for the next 12 hours, I'm dead. THE JOB WAS BORING SHIT. Imagine - you're supposed to stand beside the racks of soft drinks ALONE without any brochures or any booths for free trial. HOW ARE YOU SUPPOSED TO PROMOTE YOUR PRODUCT LIKE THIS. Just bug anyone who comes near to you? Or stop those who are planning to buy your competitors' products?


I'm so dead. Besides stranger customers, I can talk to no one. The workers there are 90% Malays, which means, M-A-T-I to me because I could not communicate to them unless they know English but NO. They dont!!! We were talking like ducks and chickens. I feel so bad for not knowing how to speak Malay well - for the first time.


Hahahaha. And after the 14 hours of consumers' observations, I can now make a rank list for the top selling soft drinks.

01. 100 Plus
02. Kickapoo Joy Juice
03. F&N Outrageous Orange
04. A&W Root Beer
05. Coke, Coca-cola

It does suprise me seeing Coke right below the list and Pepsi, out of the list. SERIOUS. The list is real. I dint crap about it its just so true that most of people prefers 100 Plus and the rest. I, myself prefer Kickapoo. It's goooooooooooood! :)

And if I were to buy any of the listed drinks, I would never choose the one on rank 3. I would rather buy Mirinda Orange. This is because....... I don't know how to tell about it right here but I can teach you what to do in comparing both these drinks. Do this when you're in the supermarket next time. Kindly look at the bottoms of the bottles of both drinks. Compare them. You'll see "something funny" sticking on the bottle's bottom. Hahaha. You may also try it to ALL the coloured drinks.

And back to Pepsi Max, I thought it was a lie. Their slogan, "Maximun Taste, No Sugar"somehow seems like a lie to me. I asked, "If there were no sugar in the drinks, doesnt it taste bad?" And I was given this answer, "Got sugar lar.. You know those healthy sugar like Equal? AHHH! Those lar.." If like this, means GOT sugar lar. This really confused me. HMMNP.
Labels: Rants