Say NO to study groups! YES to tong yuen!
Sometimes I dont understand why some people love to gather and study. Some even love to form study groups. They said its very effective, and that study groups can really help in improving our studies. BUT I dont really think so. I cannot study in a group as in, study groups with no lecturer where I see all familiar faces that I can fool and joke around. I just cannot concentrate. I need to be in a strict place or alone to really study.

Don't even mention about group assignments! Sometimes I really wish I have some nerd or smart asses as my group members where I dont need to think so much and worry so much. Because having your own fellows in your groups is just not so good!!!! I cant concentrate. :( I cannot blame them but myself. I'm someone who gets distracted very easily.


Just like today, my members and I supposed to gather at Carmen's crib to finish up our Marketing assignment. I was darn serious at the beginning and even acting very strict to the others asking them to accomplish their works but as expected, I was distracted by my dear Cindy and Carmen. Lucky my Jing Jing was good, she did her works! I did too! But not the other two. Oh my.. I will not ask for any more studies gathering. I will end up doing some other things! :( And it all started because of Cindy who brought something that she thinks its amazing! Hahaha.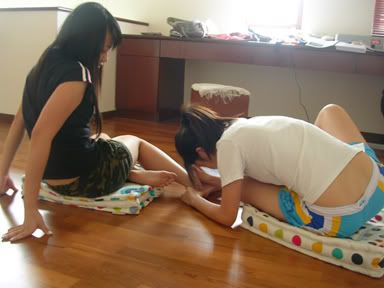 Guess what? She was much fasinated with her new stuff she bought in the night market a night before. And it was.... Henna body art which costed her only rm2. *_* Someone please whack me because I could not control myself being distracted by it.!!!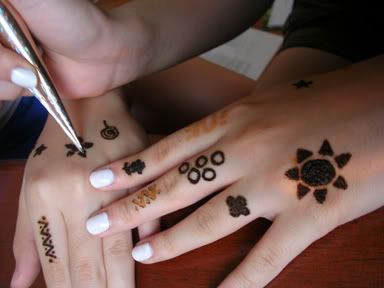 Oh no no no no. Those are definitely not my hands! These hands belongs to both the silly girls which spent more time on it than our assignments. Great. It was only ME and JingJing doing the work. And a bit from Roger. I should not have let them play at the first place. :( Because it stole my attention too!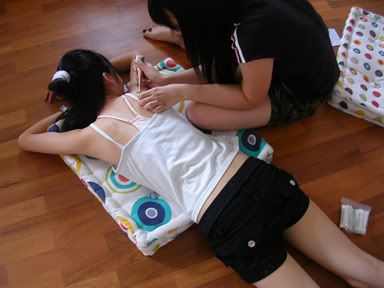 Oh that's me! I have nothing to say. I lose. :( They plead me to do so lar... ;p I really have no idea what should I draw on.. I dont want any funny funny thing or childish thing on my body and therefore, at last I decided to do this......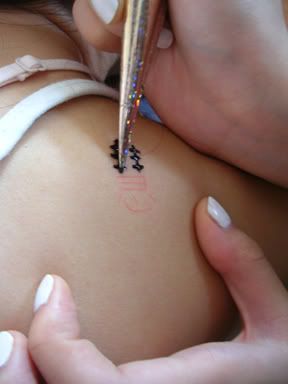 You're not seeing anything funny. That's my last name, wei. It is pronounced as whu-ui or hui instead of wei, in case you ask. It may look ugly here because it's not written by me! Hahahahaha. Its quite awful and uncomfortable and I decided to wipe it off from my back. Sorry girls. ;p I wasted your efforts. Hee.
And hey, I was quite happy today because I get to drive without my mum! And without the P sticker and without my license. Oh no. I've just did something offensive huh! Dont report okie? *puppy eyes* Hahahaha. I drove Cindy to the nearest McDonalds for tea and that journey almost got me killed because I was hyper nervous. No nothing leh! Kena tangkap how? Ish. Its not my car somemore. Hahahahaha.
Besides Mcdonald, I had this too! I bet not much of you guys here have eaten or even seen this!!!! Don't blink your eyes k?!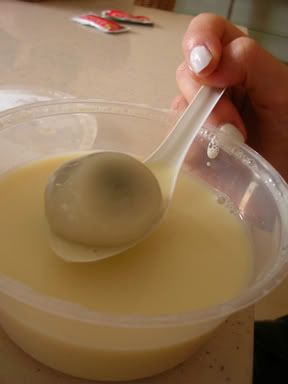 Okay, you can now blink your eyes. :) It may look very very common tong yuen but its not! Did you even notice that the soup is white in colour? Its normally clear soup with ginger what! Ekhem, this is not soup. This is soya!!! Tong yuen in soya leh! Try before or not?
You must be thinking, "Cheh! What so big deal about it?"
Memang very big deal because I havent tell you what is inside the tong yuen. Nah, this time dont even think of blink your eyes!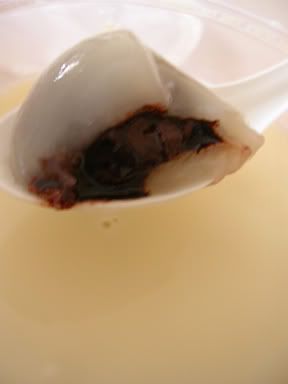 Red bean? Black sesame? *Beep* Stop guessing! It's C-H-O-C-O-L-A-T-E! Geng leh!!!! I dont know why am I so excited about it. Its not even something I made but I'm just very inlove with this chocolate tong yuen in soya. Very yummy okay! Its only available in The Soya Shop located at Sri Petaling's Endah Parade or is also known as Carrefour. :) Its only a very small stall on level one.
This bowl of thing (4 tong yuens) cost only about rm3. Beside this, they have loads of weird varieties of food from the soya family. Let me see, they have got Gingko Taufufa, Chocolate Taufufa, Fruit Taufufa, Salty Taufufa, Red bean tong yuen, Coconut tong yuen, Kaya tong yuen and many more!!! They might sound funny but are definitely delicious!!!!! Will update more about it on my very next trip there. :)
I feel proud of myself actaully. I can actully relate studies, Henna and tong yuen together. Hahahahaha. *runs away*
Labels: Rants