The Sales In Singapore!
I thought I would never had the chance to shop during the BIG sales here in Singapore. The plan to come here to Singapore was rather sudden. Everything was planned last minute lar. But it is better than nothing! Kekekeke...


Silly me brought only long sleeves tops here. Hahahahaha. The wheather here is much HOTTER than in Malaysia. Ooh dear. No choice but to wear Elaine's bigger clothes. Hahahaha.




Bugis Street

Like I said yesterday, my target, BUGIS AND ORCHARD. YES! I went to both places within 5 hours this afternoon. Not with Elaine, (so sad) but nevermind, I was with my Mum who can pay for the stuffs, both my aunts and little KaiWen. ;)

And I really hate this. My camera's batteries always go flat when I need them!!! Great. I miss taking a lot of nice pictures for the day. I want a new camera! ;p You have to understand that humans are always greeeeeeeeeeeeeeedy. Teehee.


Teenage Cafe @ Bugis Village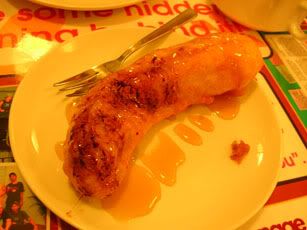 Banana Fritter



We had a meal before we spend al our energy doing shopping and it was FABULOUSS! The banana fritter was so so so finger licking's good. And this giant banana cost only $D 1!!!!!!! Yummy yummy!!
Right after the energy collection, I started shopping like a mad girl. Muahahahahahhaaha. 3 hours later, I took taxi to Orchard! The crowd there was scary.! Is the place too small or the people too much?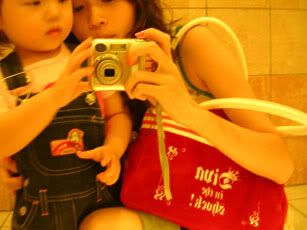 In Taka's toilet. ;p
Wow. The first and only place I went in was Zara. The clothes there are real cheap after discount. Could not consider more, and I grabbed a few tops which I ended up buying 5 tops, a pair of flat gold shoes and 2 necklaces today. How much I spent? This is crazy. I dint realised the amount spent until I calculate them home. Almost, reaching $D200. WOW. I din't know I was that rich. WEEEEEEEEEEEEEEEEEEEE!
I told you I'm more willing to spend SingDollars. I will never shop like this in Malaysia. Weird right? Hahahahaha.

Hahahahaha. Enough of shopping I guess, for now. I want to go to the beach lar!!!!!!!!!!! Kl tak da. ;p
Labels: Travel