IU day + International Food Fiesta
I wanna say that I'm really stupid!!!!!!! I din't know IU day was IU day and the International Food Fiesta was another event. I thought both were a same thing. No wonder there were so many young children in school today. I was suprised to see them. Haha.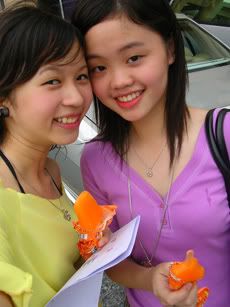 The wheather was very very very hot that you can see me wet and blushing. Haha. Someone just broke my heart telling me that I looked like an aunty. ;( Sigh.


I was really excited when I was on the way heading to school. But I was kind of disappointed when I see no more familiar faces. All also young children. And the first familar face I saw was Mr. Khaw. Hahahahahaha. He was so cute. I said "Hi, Sir!" And smiled to him. I think he acted that he recognized me and answered, "Ooh hie. How are you now? I hope you are fine. Have fun okay?"


Then I saw a few juniors that I recognized. The kind ones did said HI to me and stuffs. And there was this girl who I didn't like who actaully talked to me. Too bad lar if the rude me didn't give you any response but I don't want to force myself to do something I don't like. ;)


Very soon later, I met more faces that I know. People like green-eye girl!!! Damn horrible lar your eyes. I don't dare to look into it. And and and, sorry I left the cookie in Carmen's car. It's now all hers I didn't get to eat. ;( I left my balloon in the car too. Sobs.



I wanted to play the games but I just hate to stay nay longer under the hot sun with long sleeve huh. And it forced me to leave school. Too hot. Wanted to catch a movie after that staying under the air-con hall but almost every show is fulled. Sad lar.


Really sad. And what? I received a call from home when I was still outside. A bad news that my condo was on fire!!!!!!! I was so shocked. The lot below my house was on a fire because someone spilled the oil and lited fire on the prayer's table. And it caused the people to be in a shocked. Everyone ran out of the house almost imediately until the fire engine was here. I missed it? ;p


Lucky there was no injury and stuffs. The was is now burnt and black. Aiyah, my brother says his nose also black. Hahahaha. The guys were to careless lar and so lucky to be alive now. And on the way home from Bangsar, I passed by a accident scene. Shit! I saw a bloody dead body. Very very kesian. ;( Sigh. The accident rate in KL is getting higher and higher. So terrible that it effects me on my thoughts on to driving. Scary!!
Labels: Events