The Finals, Finally
Great! Everything is over. My darling face is saved! Phew. Yet, I'm still suffering from the itch on my face, I hope it'll recover soon. Hehehehe.

So how about last night during the finals? Well, everything went good last night beside my skin. The thing begin at 6 and it started with alot of speechs from the "boss" then to the host. It took them one hour before the contestant begin the event. Puiyeen and Wanwei was there for me. But they left early I guessed it was boring for them. They are not used to it yet i guess. I mean they are not used to the direct-sales thingy. Hahahaha. I told my mum and she felt the same too.


I cant hold the camera for the night so some others took the pictures which I don't have it now. This is the first time I ever felt like a celebrity or what. I actaully do not like the feeling of being stared by almost hundreds of people with fingers pointings and evil laughes. And I dont like the feeling of being snapped every single minute when I was being coloured on my face with flashes. Dont lar like that. I know I'm very ugly wan. Haih.

Everyone was done after one and a half hour later. I was suprised that almost everyone was equal good. How I wished I could snap all the pictures down.!!! Not much but a few to share here.

Ooh. I forgotten to mention that the theme for the night is "Creative, young and funky". D.I.Y clothes are more preferably. The models above had the funky look but they did not made the clothes themselves. All they did was mix and match with stuffs you can find in Sungei Wang. I have to say that my dress was all made by myself lor! Kakakaka.
And ya, we have to do catwalks after the make-ups. I was shy. I know. I walked like normal last night. The others were great. But I didn't like some of their poses. We had to do 4 times. It was like so tiring!!! And pain. ;(

Finally the results were out after an hour. Yay!!!! Me and my partner got like number5!!!!! Though there wasnt a cash prize for us but we're still very happy with it! We have to admit that the contestants were all very strong ones. Hehehahahaha. Bye bye to our cash. ;p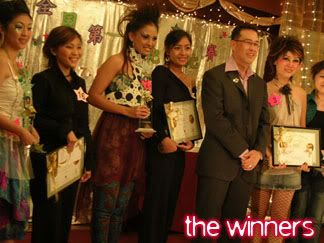 I like the first prize winner's make-up. Very funky. She's the third from the left. The only Malay girl in the finals and they won the 1K cash prize! The first runner up is the girl at the right corner. You know, she's bald. She's looking cool in the wig.!! Hehehehe. And obviously the third place is the girl on the far left. Her make up was good too but she lose her points on her dressing. Too bad. But at least she won rm300. Hahahaha.

There were two contestant that went out of topic. But to not disappoint them, they decided to give them the best dress winners. Mana boleh macam ni? Grrrr.



But their dresses very nice right? Hehehe. Wondering where is my picture? I did'nt want to scare you guys but I look very very very scary. Seriously and honestly. I do not look like me, myself. Some people said I looked like Anita Mui. But but but one thing, I was the one who took the most pictures with the others last night other than model number10 above. Die man. I planned not to take pictures with that make up but I think my pictures are flowing here and there already. Aiks aiks. Cannot! Must ask them for the pictures because I don't have them. ;(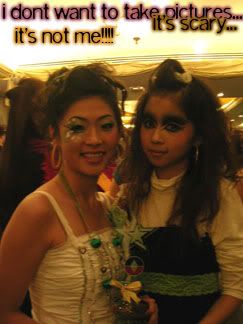 SCARY RIGHT? Hahahahaha. Okay okay okay, I know I promised to share. But I really don't have them right now. As soon as they burn them for me okay? Hahahaha. View more in my multiply. Don't be shocked okay. ;(
Labels: Events