Moodless
I'm moodless. I'm like a compass which lost its needle that used to show its direction. ;( I dont know. I just feel that way now. And i hope someone would repair the compass very ver soon.

So i thought, whether will the kids help me at least a bit with the smile on my black long face. And i went to my grandparents house for them. They dint help. *_*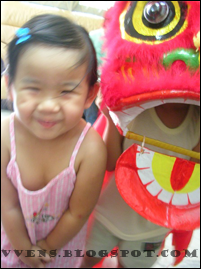 They tried to entertain me with the lion dance. Shit. When i look at Tammie, i felt even worse. LOOK at her man! She has longkang. *_*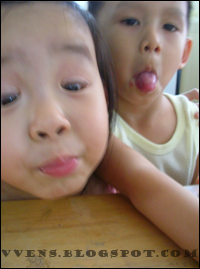 They even tried by cam-whoring for me. Even kids know how to cam-whore now. Geng! Notice Tammie's eyelid. I applied those eye lid sticker for her to make her eye look bigger. ;p

Then Ivan was trying to get me the water apples. He thought i would be happy after eating them. Yes, my grandparents planted them and they are indeed sweeeeeeeeeet.
Zoom zoom zoooooooooooooom.
See the amount of the fruit!!! A lot right? I wonder will i earn by selling them in pasar malam.
Zoom zoom zoom zoom zoom again...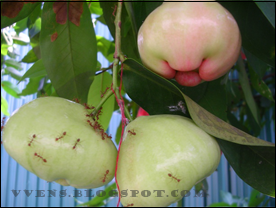 Even the ants are lusting over them. Hahaha. Ada national geographic feel tak?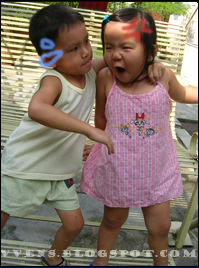 No. Doing all the clown show doesnt help. Thank you kids... But.. Sigh.
Labels: Emo Post