The Ninth Day
Its the ninth day of lunar new year and it isnt that fun afterall.


Last night is the day when every year, everyone will come to my grandparents' house for the Hokkiens' parying ceremony. Its very fun and crowded every year but not last night. ;(


Its like.... Only our family members were there. Sobs. As the praying ceremony starts on 12 sharp midnight, we had to wait for a very long time.... Meantime, i took some picture to share it here!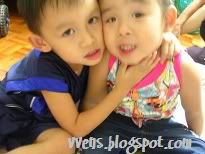 This is what we called, Love you to death! ;p


Or should i say Ivan is out of his mind.?
Our preparations. Food are to eat after praying while the paper house and sugar cane are to burn during the ceremony.
The cuckoo clock on the wall showing the time, 1130 at night. AHH! I'm so sleepy...!!!
Finally its twelve and everyone is starting to lit up their joss sticks and start their prayings.
Grandma praying for more money. Hahaha. ;p
*OOPS* put down the camera and start praying.. No more pictures as i'm really tired and busy after that. I had to take care of the kids.. Haha. Pray. Keep the food for eating and stuffs. Everything is done at 2 o'clock in the morning! So early. *__* I was dead tired and hahahaha.. my brother had the excuse to skip school today.!
p/s : there are less fireworks too. SOBS.
Labels: Rants