4th of February
Its was Aaron's birthday today and i was in his party located at his house that night. It has been a long time since i met the seniors. Hahaha. Obviously i felt awkwards and uneasy around with people i'm not close with. But lucky, my saviours; i met some of my friends of my batch.!! ;)


Ooh what we got for him? Hahaha. My dear and i spent quite a long time after our dinner to actaully hunt a suitable present for him. Hahaha.. Had a great time for window-shopping too.


I was actaully very panic when this Dexter was scarying me with his brother. Ya!!! He was there too. He said meeting his brother is somehow like meeting his parents. Y_Y But afterall, it isnt that bad.
Majority of them was playing, gambling and drinking after losing from the game. Hahaha. And some; including the main character for the night was busy cooking for the guest.
While i was relaxing on the sofa with my dear watching some game shows. Laughing away while teasing people on screen.
Okay, finally its the climax of the night. The cake-cutting ceremony. ;p Erm, some snap shots before that. Ooh, the picture above is the birthday boy, Aaron with his girl, SeeMun.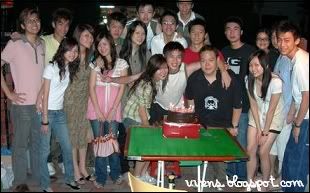 Now, a group picture!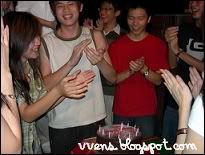 Time for cheeeeeeeeeeeeeeeeeeeeeerings! Happy birthday!!
Hahaha. I hate to do conclusion but i have to. It was a not-bad that night. And i think the present we got for him is very meaningful. ;p
Labels: Birthdays