My Berrie
I have been always blogging about my darling little cutie cousins. I have only 3.!!! Ivan, Tammie aka Meimei and Kaiwen aka Berrie. ;)


They are the cutest in my eyes.!! :D I know i havent introduce Kaiwen in my blog, so know i will!


She is a precious baby to her parents because they had her after years and efforts. She's a thousand dollars baby unlike Ivan and Tammie. Hahaha. ;p But she is very cool. She hardly smiles. My grandpa always says that if you smiles, we sure stroke 4D. Hahaha..

She is also a very clever girl. She's only 1 year plus and she knows how to speak alot. Yayaya, her mouth is very the sweet. Hehahaha. She always pronounce a thing starting with an AH. Like, when she needs someone to carry her, normally kids would say bao wo, carry me. But she would say, ah-bao. And many more; all with an AH infront.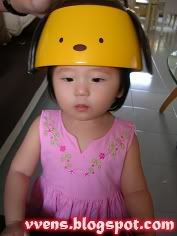 She loves to eat potato.! Hahaha. She would do anything for it like kissing us at our cheek. OOH, so sweet.
She's like a princess to everyone of us especially her parents.! Everyone loves her. Her parents who are not so affordable will always give her the best. You can see by their appearance. Both of them always wear as simple as possible but when Kaiwen turns up, wow, you can see a little princess. FYI, her clothes are more than her parents!!!!!!!
She's a little bit too pampered by her father anyway. And also kinda over protected. She's not allowed to drink COKE but sometimes we do allow her when her father is not around. ;p We too, are not allowed to make fun of her or give her names. LOL.
Hahaha. She's just too cute.
Take a look at her family picture. Aint they sweeeeeeeeeeeeeeeeet and Kaiwen is so pretty in this picture. ;)
Labels: Rants