Happy Chinese New Year!
Its the first day of lunar new year. GONG XI FA CHAI.
This is how we look like early in the morning. Ugly right?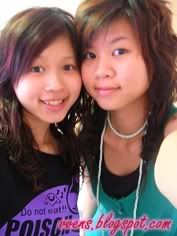 This is how we look like after dressing up. Get ourselves ready for the CNY visiting.
We went to Elaine's uncle place which is my cousins' father's family. Hehehe. The house is so flooded with humans and a chiwawa. Hahahaha.. Stupid dog. ;p And did i mention their angpaus are like doubled compare to the angpaus i use to receive in KL.!!!! Muahahaha.. And what?! I have like rm200 plus just for the first visit; plus the place is much like a stanger to me. Yes. I dont know them at all.
Hahaha. Cool eh? ;p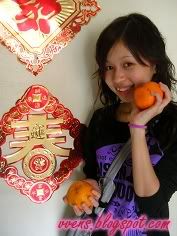 Let me flood the entry with pictures taken today! ;)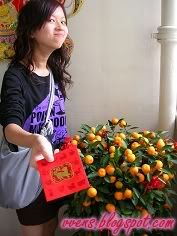 Want angpau?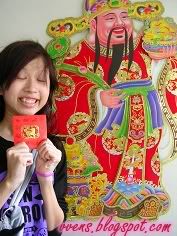 NO WAY!! Its mine!!! A picture of me with Choi san-yeh.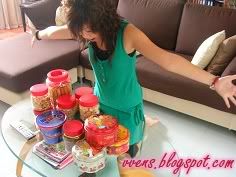 Elaine drooling over the new year cookies; forgetting that they will make her fat.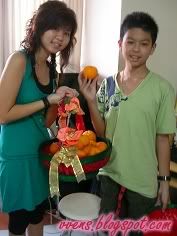 Elaine giving away mandarin oranges.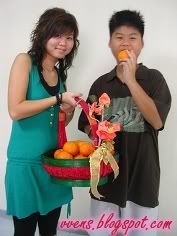 Her brother is greedy. ;p Peel before you eat lar!!
The four of us. Look at my brother behind; he is acting cute lor!!!
Me, camwhoring with my favourite snack. But Elaine just wont leave me alone. LOL.
After the visiting, we went home for a rest and left house at the evening for the new movie, "I not stupid too". I seriously love Jack Neo's movie. Its like some true stories you can find beside us. This time, this movie really made us laughed.!!! The whole cinema is filled with laughters. ;) Nice. However, there are also alot of scenes that touches us and caused us sobbing in the cinema. I tried so hard to hold my tears, i dont want them to dirt my face. I put on mascara. If i cry, i'm afraid i'll scare the others. Hahahaha.
I highly recommend this show to you. Go watch it!!!! And prepare packets of tissue paper okie!!! There are alot of movies coming soon, too much movie to catch; Fun with Dick and Jane, Shopaholic, Fearless, Final Destination 3, My Kungfu Sweetheart...... Bla bla bla..
After the movie, we went to Swensens for dinner.
Elaine enjoying her chocolate ice cream while....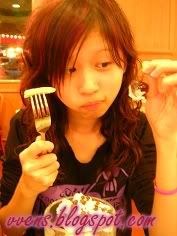 I'm very confused. I dont know which to choose, fries or cherry? ;p
I am looking forward for the gathering tomorrow at our place. The three sisters and their kids will be right here! COOL. My mum and 2 of her dearly sisters. And i am too looking forward to my ANGPAUS. Muahahahaha..
Labels: Rants